The Department of Planning and Architecture in Ho Chi Minh City is gathering opinion of residents for implementing a detailed architectural plan and an efficient management mechanism to broaden the city center area.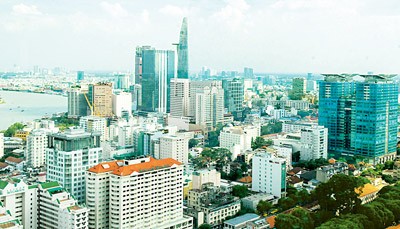 HCMC plans new high-rise buildings in extended area (Photo: SGGP)
According to the plan, the current center of HCMC will be extended over 930 hectares to include Districts 1, 3, parts of 4 and Binh Thanh.
The department is scheduled to present their detailed plan to the City People's Council this week.
Ho Quang Toan, deputy director of the Department of Planning and Investment, the detailed plan will take into account structural preservation and create a harmony in development.
Ben Thanh Market, the Notre Dam Cathedral and the HCMC Post Office will be conserved in their old form.
In case of historical architectural structures needing repair or upgrading, restoration experts will be called to minimize damage to the original structures.
The Department of Planning and Architecture will also work with other departments for preservation of villas built during the French colonial rule.
Besides preserving old architectural buildings, HCMC will build about 100 new buildings in the commercial and financial hub of District 1 and some on the west bank of the Saigon River.
Several new traffic routes will be opened and the public transport system will also be developed. For instance, Le Loi Street will be extended to connect with Ton Duc Thang Street and a tunnel will be built under Ton Duc Thang Street.

Related article:
HCMC to extend city center towards Saigon River