According to the Department of Construction in Ho Chi Minh City, around 20 percent of 150,000 state-employees and army staff are in dire need of accommodation.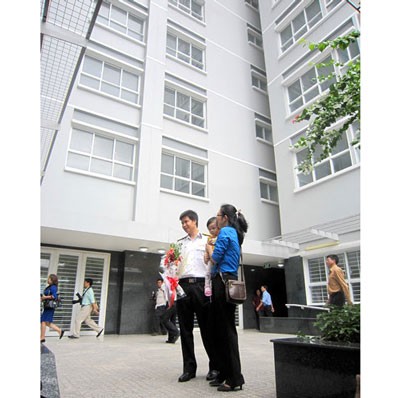 State-run staff at social apartments in To Hien Thanh Street in District 10 (Photo: SGGP)
The City plans to build more than 21,000 social apartments for these low-income earners by end of 2015.
However, only seven projects with 6,145 apartments or only 35 percent of the target will be met by 2015.
Thirteen projects would be finished only after 2015, because of shortage of funds and lack of participation by competent property developers.
The Ho Chi Minh City Real Estate Association said many capable Vietnamese businesses have channeled their capital into the luxury housing sector to satisfy demand of high income groups, while affordable housing apartments for low-income people has fallen short.
The unbalanced supply of accommodation has now left a large unsold inventory.
According to the Department of Construction, the City is now holding about 10,053 apartments in stock, in buried real estate worth up to VND17.6 trillion, equal to US$837 million.
Nguyen Van Danh, Deputy Director of the HCMC Department of Construction, said the demand for living apartments for low and average income earners is rising sharply yet the market is lacking affordable housing for these people and price of houses is still out of their reach.
The paradox is that while the realty market is facing large inventory, many people continue to live in rented accommodation.
According to the HCMC People's Committee, constructing houses for low income earners is not attractive to most property developers. In addition, enterprises find it hard to access preferential loans.
HCMC has petitioned to transfer more than 11,000 commercial housing apartments into social housing, but transfer procedure is too slow. The People's Committee has also proposed exemption of value added tax (VAT) and income tax for enterprises that build social housing projects or transfer commercial houses into social houses.
To support house buyers, the City also petitioned to reduce VAT for persons who have bought a house for the first time, along with delay in bad debt payment and lower interest rate.
Apartment buyers of less than 70 square meters and price under VND15 million per square meter will enjoy preferential loans on amount upto VND30 trillion (US$1.44 billion).
In addition, the City also proposes to increase a 30 year term loan for very low income earners.