The Department of Natural Resources and Environment, under the People's Committee of Ho Chi Minh City, has proposed a series of measures to tackle the problem of littering in the City.
Like other social evils such as encroachment of pavements for trade and business, littering has become widespread in the City, commented Nguyen Thi Du, chief inspector of the HCMC Department of Natural Resources and Environment
In the suburban countryside, we see images of cattle and other animals wandering freely and defecating on the road, and also of people indiscriminately throwing garbage straight into the rivers, canals and roadsides.
At present the lowest penalty for littering is from VND60,000 to 100,000 (US$3-5) for acts such as pouring waste water onto the road or sidewalk or allowing livestock to defecate in public areas.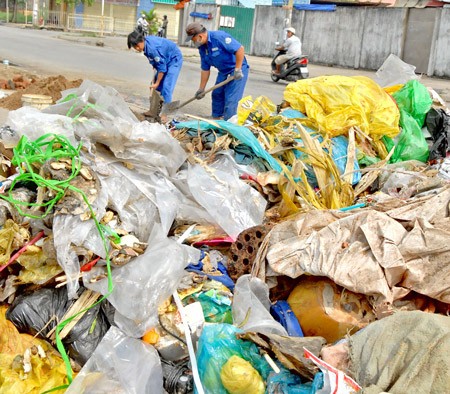 Debris littered on the pavement of road 54 in Binh Tan District in HCMC (Photo: Kim Ngan)
These fines are too small to deter people, Du said. She suggested that the Department deduct 70 percent in fines that is spent on maintenance of employees that deal with such violations.
Another measure is to step up the building of waste recycling centers. However, nine months after the HCMC Waste Recycling Fund was set up, just one enterprise has begun its operations and applied for a loan.
High interest rates and low loan limits have been major factors discouraging firms in the waste recycling industry from approaching the non-profit fund, according to an official in HCMC Department of Natural Resources and Environment.
The fund aims at providing capital for research and implementation of projects in waste management, including recycling and reuse.
Huynh Phu Nam, director of the fund, is quoted in the report as saying the main reason they have failed to attract enterprises is the high interest rate they have to pay on loans.
The HCMC People's Committee has stipulated that loans granted by the fund will carry an interest rate that is the average of deposit rates in the City's four commercial banks. An additional two percent of the value of the loan will be collected as management fees.
The fund has been offering preferential loans at an annual interest of 12.5 percent, but this is considered high in comparison to other funds operating for environmental purposes, Nam says.
Besides, the fund's reach is limited to projects relating to waste recycling in HCMC or recycling the city's waste in other regions; research projects on scientific applications in waste recycling; and related projects approved by the People's Committee.
Nam says another stumbling factor is that recycling facilities have recently been asked to move out of residential areas. It is not easy for them to find space in industrial areas that already have wastewater treatment systems and other environment protection conditions.
Therefore, the fund has to focus now on new, more modern and effective facilities, he says.
The City's Department of Natural Resources and Environment has reported to the municipal administration the difficulties facing the fund and is awaiting a response, he added.