Water levels in rivers and canals of Ho Chi Minh City October 20 measured at 1.64m, the highest ever in last ten years, submerging many residential blocks and roads in the City.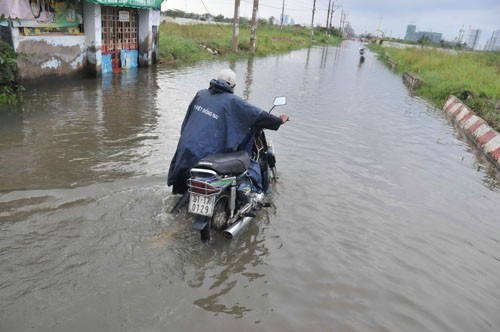 High tide has seen in Luong Dinh Cua Street in District 2 ( Photo: Thanh Nien)
With water levels at 1.64m, the record of 1.62m last October has been surpassed. Record high tide on Sunday caused heavy flooding in many areas of Ho Chi Minh City.
High tide waterflow inundated households in Thanh Da in Binh Thanh District, residential areas in Binh Chieu Ward in Thu Duc District, wholesale agro-market in Districts 8 and Binh Thanh, and roads around Pham The Hien Market and Chanh Hung Bridge.
High tide caused severe traffic congestion along Me Coc, Pham The Hien, Dao Cam Moc, Phu Dinh Streets in District 8; An Duong Vuong in District 6; Huynh Tan Phat in District 7; Luong Dinh Cua in District 2; Nguyen Xi, Nguyen Huu Canh in Binh Thanh District; and Trang Tu, Tran Hung Dao, Duong Tu Giang in District 5.
In a tragic case, a 22-year-old man on Truong Luu Street in District 9 was electrocuted while he was bailing out water from his house. Hearing his shout, his parents tried to save him but also suffered light electric shocks and ran to turn off the electricity supply.
The young man was rushed to a nearby hospital but was declared dead on the way.
According to the Southern Hydro Meteorological Forecasting Center, Ho Chi Minh City is expected to face more high tides for many days, even exceeding third-stage warning level by 0.12-0.14 m.