Ho Chi Minh City will be one of 10 cities worldwide to suffer the worst outcomes of climate change, Director of the city Department of Natural Resources and Environment Dao Anh Kiet, said March 18.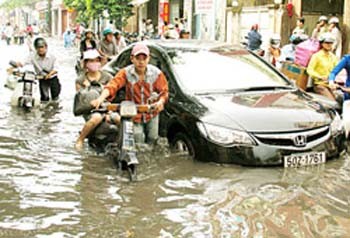 This undated file photo shows Ho Chi Minh City residents trek through a flooded street (Photo: SGGP)
He was speaking at a seminar on strategies for urban development and climate change adaptation, held by the department, the city steering committee for climate change adaptation and German experts.
The effects of climate change can be clearly seen in HCMC with more rain and higher tides each year, said Mr. Kiet, who is also standing deputy head of the steering committee. Floods have been worse in the rainy season while droughts have been worse in the dry season, he added.
To cope with flooding, the city should build areas to reserve and regulate water, the German experts said.
In addition, HCMC needs more green spaces, especially in central areas where it is not feasible to build reservoirs.
Nguyen Thi Cam Van, head of the Natural Resource and Environment Department's planning office, said the city now has 121,000 hectares of agricultural land and it is forecast that by 2020, about 38,000 hectares will be allocated for development projects.
This will negatively affect natural water drainage, she said.
The department thus said it will propose that the city plan areas for reservoirs and for receiving flood water.
Climate change adaptation will be successful only if it is carried out in parallel with urban planning, construction and development, Ms. Van added.