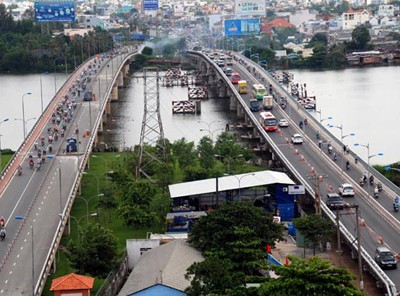 (File) Binh Trieu 1 and Binh Trieu 2 bridges in Ho Chi Minh City
The Ho Chi Minh City Department of Transport needs to accelerate work on beltways to ensure smooth traffic on them, a city leader told the department Monday.
Mr. Nguyen Huu Tin, Vice Chairman of the city People's Committee, urged this during a meeting held to review last year's performance and kick off this year's tasks.
He said the department needed to promptly finish work on Beltway 2.
Mr Tin added that as this year was defined a National Traffic Safety Year, great efforts must be done.
According to him, the city would focus on eradicating many traffic jam points, cracking down on violations of traffic laws, building underground parking lots, and re-zoning the city's traffic system as approved by the Vietnamese Government.
A task this year in the city is to reduce the number of traffic accidents by 10%, and make the total area of street increase by one million square meters.