Ho Chi Minh City leaders should pay more attention to the living and working conditions of its laborers, said a Party official during a working visit to the city on Monday.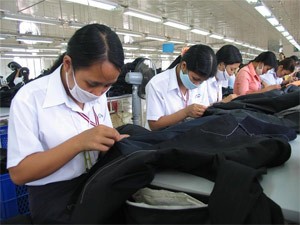 Workers of a textile and garment firm 

Mr. Truong Tan Sang, Politburo member and standing member of the Central Party Secretariat, said that the city has paid too much attention on the GDP index and exploration of human resources rather than caring about the lives, skills and knowledge of the city's workers.

In the city-based industrial and export processing zones, only 10% of labor unions operate effectively, he added.

The Party official suggested that labor unions be established under Union Law in all city-based companies, especially foreign-invested firms.

The city has more than 1 million workers; only 56.7% of which are junior high school graduates, 71.6% are manual and primary workers and 75% come from rural areas.

The average income of a worker is only VND1.2 million (around US$75) per month and most have no savings and live in rented accommodation with poor living conditions.