The HCM City administration announced five measures for social and economic development at the end of a three-day session of the People's Council on July 9 that was held to discuss the challenges posed by the economic slowdown.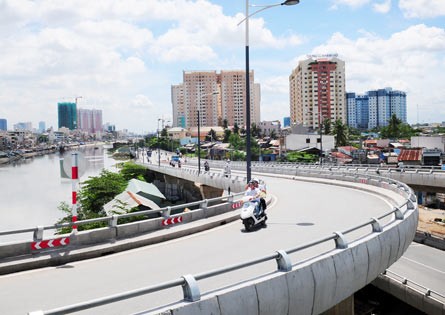 Nguyen Van Cu bridge opened to public in May, helping reduce traffic congestion in the city.
People's Committee Chairman Le Hoang Quan acknowledged that economic growth in the first half was lower than expected, major development projects proceeded sluggishly, the budget was imbalanced because of the income tax waiver program, and production was lower while social welfare and other expenses were higher.
"The release of funds for major projects FDI projects was slow, and living standards did not rise as expected. Farmers, workers, and students find conditions difficult.
"Pollution, traffic congestion, sanitation and food hygiene, and epidemics remain serious worries.
"The management and execution of social and economic development programs became worse."
He admitted the buck stops with him and promised drastic measures to stimulate social and economic development.
To achieve the economic growth target, the city plans to focus on areas like construction, trade and services, agriculture, improving use of its and the Government's stimulus packages, and creating better conditions to attract more aid.
Related article:
City legislators haul department chiefs over the coals
16th session of HCMC People's Council Opens