Ho Chi Minh City's Department of Construction and the Management Board of Thu Thiem New Urban Area broke ground on Thursday for a resettlement project to build 4,200 apartments in Binh Khanh Ward, District 2.

This is one of the three major resettlement projects of the city's program to build 12,500 apartments for displaced families in Thu Thiem.

City Party chief Le Thanh Hai, Minister of Construction Nguyen Hong Quan, city People's Committee chairman Le Hoang Quan, other government and city officials and displaced residents witnessed the groundbreaking ceremony.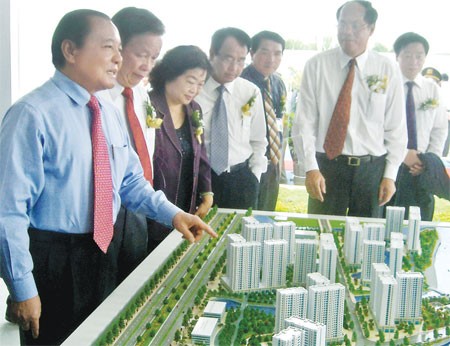 Ho Chi Minh City Party chief Le Thanh Hai (1st, L)views the model of the resettlement project on Sep. 4 (Photo: SGGP)
The 21st Century Development Company is the investor of the VND6 trillion project.
Tran Vu Anh, general director of the company, said that the project occupies a total land area of 30 hectares, consisting of three blocks of buildings from 20 storeys to 25.

Every block will be equipped with drainage systems, standby electric generators, fire prevention and fighting systems. Each comes with its own security, sanitation, operation management, cable TV and Internet services.

The apartments are built in three different sizes ranging from 60.2 square meters to 77.7 square meters and 102 square meters each.

The project is designed to ensure the supply of social infrastructure, such as kindergartens, schools, hospitals and trading centers for a total population of more than 16,000 people.

Addressing the ceremony, city People's Committee chairman Le Hoang Quan said that this is one of projects backed by the city's Party and government in an effort to create decent accommodation for city citizens.

City Party chief Le Thanh Hai extended his heartfelt thanks to displaced residents' cooperation with the city government, as things would be very different if they were not ready to make way for site clearance.

He also promised a better life to the displaced residents once the project was completed, as it will not only change the urban image of the area but also significantly improve the living standards of locals.

The project is scheduled to be completed in 24 months. Apartments will then be transferred to prospective owners by the end of 2011 or early 2012.

At the ceremony, the 21st Century Development Company donated VND 100 million to the District 2 fund for the poor.
On Sep. 4, representatives of the city's People's Committee are to meet and work on the selling price for each kind of apartment, which will be announced after a mutual agreement is reached.