The Department of Industry and Trade in Ho Chi Minh City on January 3 said that relevant units in the City have completed 80 percent of their preparation in stocking commodities for Tet Lunar New Year.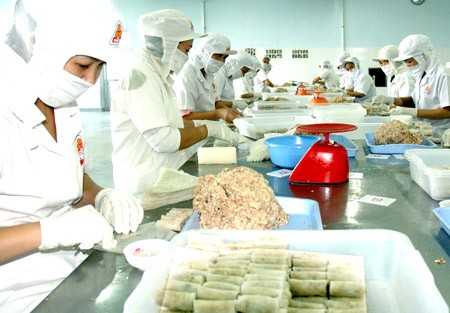 Workers in food factory process goods for Tet under the price subsidized program (Photo: SGGP)
This was reported at a meeting with the Ministry of Industry and Trade, to discuss preparation of goods and measures to stabilize the market during the coming Tet festival.
According to the department, stockpiled goods are 20 percent more than last year and far in excess of the requirement for the City's price subsidized program.
Total value of commodities for the price subsidized program for Tet has reached VND6.68 trillion (US$321 million), an increase of 23 percent since last year.
HCMC has so far 5,277 stores under the price subsidized program. City authorities have instructed departments and businesses to add more stores and mobiles outlets at industrial and export processing zones so that low-income people can readily access price subsidized goods.
Departments and districts will closely work with businesses to open more stores and organize about 700 mobile outlets in suburban areas of the City from now until Tet.
Nguyen Thi Hong, deputy chairwoman of the HCMC People's Committee, said that the City is well prepared to prevent price increase in case of shortage of goods during the festive season.
Chairmen of district people's committees will have to take responsibility for any goods scarcity or price increase in their localities during Tet.
Ho Thi Kim Thoa, Deputy Minister of Industry and Trade, appreciated the efforts made by HCMC to stock ample Tet commodities and stabilize the market for the holiday season. The City's price subsidized program has contributed towards curbing CPI growth in the country.
At present, 43 provinces and cities in Vietnam have applied for the price subsidized model, similar to that of HCMC.