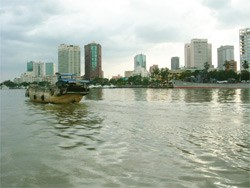 Boat travels on Sai Gon river. The city will continue investing in the sewage treatment concentration zones, as well as in environmental protection. (Photo: H.U.)
The Ho Chi Minh City's People's Committee has directed the Department of Natural Resources and Environments to cooperate with relevant units to stop the contamination of Sai Gon and Dong Nai river basin within this year.
Licences of factories causing pollution must be revoked, and new enterprises that are applying for production expansion must pledge to comply with the regulations on environmental protection.
The sewage treatment systems of industrial zones around the city must meet the environmental standards. The city authorities will continue investing in the sewage treatment concentration zones as well as beefing up its investment in environmental protection.


Dong Nai River rises from Lang Biang Highland at height 1,700m and runs through the provinces of Lam Dong, Dong Nai, Binh Duong and Ho Chi Minh City. Dong Nai River is a giant river with the length of 653km, its valley being 44,100sq.m, and total water-current being 16.7 billion cubic meters per year. The volume of sand and mud the river brings is about 3.36 million tons per year, which is the source supplying sand for increasing construction demand.

Dong Nai River is valuable in transportation, mineral resources, and water supply for industrial zones, urban areas, tourism, agriculture, especially for Tan Uyen - the important land of industrial crops and fruit trees of the Province of Dong Nai.

Sai Gon River rises from Cambodia and runs through northwest mountains of Loc Ninh District of Binh Phuoc Province, via south east provinces of Binh Phuoc and Binh Duong.

Sai Gon River has is 256km long, with its valley area being 5,560sq.m. The upstream is narrow, but at Dau Tieng section, the riverbed extends to 100m and at Thu Dau Mot Township it reaches 200m. The average water-current is 85m/s, the slope is small - 0.7%. Consequently, Sai Gon River is valuable for transportation, agriculture, aquatic product and ecological tourism.