In the absence of clear-cut division of duties among supervisory agencies, fake and contraband goods are becoming rampant in Ho Chi Minh City as are infringements of intellectual property (IP) rights.
In May 2009, following a complaint by drug multinational Smithkline Beecham, Team 3A of the HCM City Market Management Sub-department found pharmaceuticals branded "Paracetamol & Device" at Quang Binh Pharmaceuticals Joint Stock Company in Tan Binh District and a shop in District 10.
They were allegedly knock-offs of "Panadol & Device" produced by Smithkline Beecham and trademarked in Vietnam.
The agency seized the drugs for investigation.

But Quang Binh showed them a certificate of copyright issued by the Copyright Office of Vietnam and a license to distribute Paracetamol 500mg from the Drug Administration of Vietnam.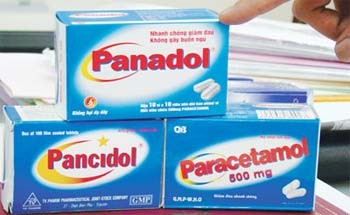 Three different drugs but with similar packaging. Fake products and intellectual property violations are increasing in HCMC (Photo: SGGP)
In the event, the Sub-department informed Smithkline Beecham that its complaint can only be settled through negotiations and called off its action against Quang Binh and returned its goods.
An official in charge of the case said it was very difficult to ascertain which side had infringed intellectual property rights since both held trademark certificates.
In September 2008 the Sub-department discovered that Nghiep Phat Co. in Binh Tan District had violated the intellectual property rights La Chemise Lacoste group held to the trademark "Lacoste & Device." The total value of the knock-offs was VND571 million.
Nghiep Phat admitted its offence and the case was referred to the HCMC Police, but the case remains unresolved.
Better coordination needed
Of the IP infringement cases in 2008, 75 percent were detected by manufacturers and the rest by the Sub-department. The most popular knock-offs were glasses, bags, packs, leather wallets, footwear and sportswear.
In most cases, the knock-offs are very similar to genuine ones, confusing customers and making it difficult for authorities to identify them, Nguyen Trung Binh, deputy head of the Sub-department, said.
Only the producers of the goods can distinguish between the genuine and copycat items, he added.
In many cases authorities found it difficult to identify the actual owners of registered trademarks to coordinate with them in dealing with the cases.
In some other cases, producers chose not to pursue legal action against violators for fear lawsuits would worry consumers and damage their brands' prestige.

To help in the fight against IP infringements, individuals and companies owning trademarks should report to market-control authorities and cooperate with them in the fight against IP violations, Mr.Binh said.
There should be better coordination in issuing IP certificates between competent agencies to avoid overlap or confusion, he added.