Nguyen Huu Tin, Deputy Chairman of the Ho Chi Minh City People's Committee on Tuesday chaired a meeting with relevant departments to discuss ways to minimize flooding in 10 of the most vulnerable spots in the city this year.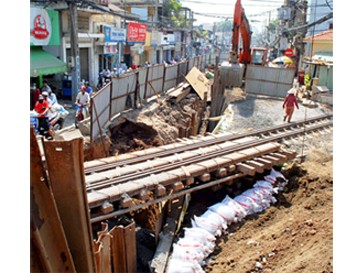 A drainage project under construction along Nguyen Kiem Street in Phu Nhuan District (Photo: SGGP)
At the meeting, he asked concerned departments to begin the bidding process. Preference should not be given to contractors offering the lowest bid, as has been the practice, but to focus on ones offering quality standards and speedy execution.
Besides giving priority to these 10 flood-prone spots this year, Mr. Tin stressed that the Steering Center for the Urban Flood Control Program should prepare plans on other consecutive programs to follow in coming years.
Specifically, the center should completely do away with the 31 remaining flood-prone spots in the city by 2015; prevent flooding there and also prevent occurrence of new similar spots.
He asked relevant departments to cut short the time to assess, approve and license projects. Red tape should be done away with and administrative procedures should be simplified to boost progress of all these important projects.
A penalty clause should be implemented if work runs behind schedule. If delivery of construction works is of poor quality, executive heads of management boards of projects and directors of relevant departments will be held accountable.
District authorities will be accountable to the City People's Committee if canals under their jurisdiction are encroached, for whatever reason.
The ten highly vulnerable flood-prone spots targeted this year are located in An Duong Vuong and Hau Giang Streets in District 6, Lanh Binh Thang in District 11, Ung Van Khiem and Vu Tung in Binh Thanh District, Quang Trung in Go Vap District, Highway 1A in District 12,
Go Dua in Thu Duc District and Do Xuan Hop in District 9.