The city has ordered officials to accelerate home building by finding remedies for the sluggishness pace of construction and resettlement projects.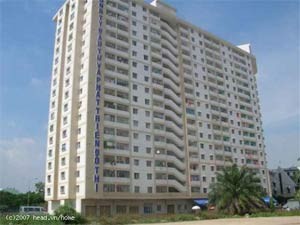 An apartment building for low-income people in Binh Thanh District, Ho Chi Minh City
Contractors whose projects lag behind schedule will receive appropriate punishment, the city warned.

The city's Construction Department will be in charge of preparing a standard contract for house construction which will help officials in determining the contractors' violations and determining suitable punishments for the violators.

In related news, the Dat Lanh Real Estate Co., Ltd has sent a proposal to the Ministry of Construction, the city, and to relevant agencies asking for the permission to build a pilot project of small-sized apartments ranging from 30 to 40 square meters.

The project is expected to be built at the Thai An Residential Area in District 12. The price of each apartment will be between VND240 million (US$15,000) and VND300 million (US$18,700).

Those whose monthly incomes are from VND3 million (US$200) to VND5 million (US$310) can afford to buy the apartment on an installment plan of five to 10 years.