Ho Chi Minh City plans to expand the high-tech agricultural zone that is under construction now in Cu Chi District and build two more zones since it has become hugely popular with investors.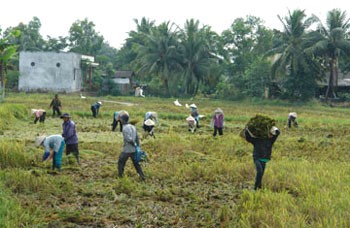 HCMC's agricultural development is set to become sustainable with several high-tech agricultural zones to be established soon
Tran Phuoc Dung, head of the zone management, said investors have already registered for much more space than available in the zone though even infrastructure is not ready yet.
 
Just five approved projects would occupy exactly half the 56 hectares earmarked for processing plants, he said.
 
The expanded area will be used for farming and the new zones, planned for Cu Chi and Binh Chanh Districts, will be earmarked for aquaculture and breeding cattle.
 
The zone, once expanded, will measure 87ha, and will be used to conduct research into hybrid plants and livestock, and produce safe, good quality farm products.

It will also be used for scientific studies on better techniques for cultivation, harvest, preservation, and processing of crops.
It will gradually integrate modern technologies into farming practices, giving support to household and farm businesses.
 
It is hoped the zone will attract foreign resources and talent. If the model proves successful, it could be replicated in other parts of the country.
 
Visiting the zone on August 18, Pham Phuong Thao, chairwoman of the city People's Council, said the zone would facilitate a switch to urban farming.
 
Projects that offer high value but do not require much space would be chosen, she said.
 
Polices and tasks related to the zone need to be completed soon so that it can be inaugurated in 2010, she said.
 
The zone is expected to attract foreign investment in technology-based farming, create valuable plant and animal strains, and train the city's farmers, she added.