Ho Chi Minh City People's Committee met with various bodies and businesses about building supermarkets and convenience stores in industrial zones (IZs) and export processing zones (EPZs) September 11.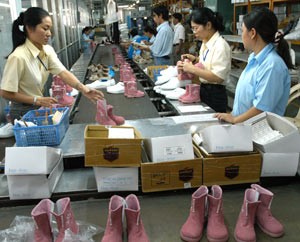 At the current time, around 250,000 workers are employed in industrial zones and export processing zones.
Currently, the city has 15 IZs and EPZs, which employ around 250,000 workers. With the huge number of workers, shopping demand is large despite IZs and EPZs in the city having no supermarkets or trade centers.
Nguyen Thi Hong, deputy chairwoman of the committee, said it is necessary to build convenience stores and supermarkets in the IZs and EPZs
Management boards need to coordinate with the city's Department of Planning and Architecture and relevant districts to find land in industrial and export processing zones to build supermarkets, said Ms. Hong.
Businesses in IZs and EPZs will invest in build supermarkets to meet workers' purchasing demands.
Ms. Hong said any new industrial and export processing zones must also have supermarkets.
Supermarkets in industrial and export processing zones should pay attention to workers who have many economic and social difficulties. Therefore, such businesses should not pay attention to making large profits, they should care about social issues and be responsible for workers' needs, she added.