Hundreds of projects worth over VND510 billion (US$31.6 million) will be cancelled, according to the city's Department of Planning and Investment. The projects were to be financed by the central government and by the city.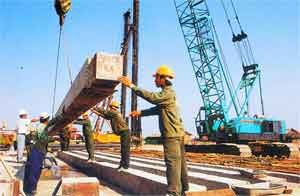 Many construction projects will be in the city will be cancelled as an effort to curb inflation
The department has recently proposed that the city cancel 388 publicly-financed projects. This is seen as an effort to curb inflation.

Among the cancelled projects, 55 projects that would have cost over VND221 billion (US$13.7 million) were delayed from previous years. Forty-one other project totaling VND166 billion (US$10.3 million) were about to be carried out, and 276 projects worth VND85 billion (US$5.3 million) were not gone ahead with formalities and the others are considered unnecessary.

The city currently has 1,700 publicly financed projects worth over VND15 trillion (US$930 million).