The monthly maintenance charges apartment blocks can collect from tenants is likely to be capped at VND8,000 a square meter in Ho Chi Minh City if authorities accept a proposal by the Department of Construction.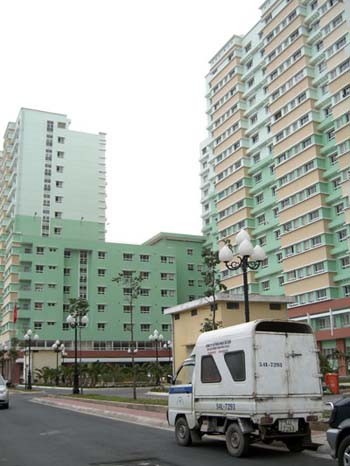 An Loc, a first-grade apartment block in HCMC's District 2. A draft by the city's Department of Construction seeks to cap maintenance charges collected by apartment-block managers to resolve a simmering dispute. (Photo: SGGP)
This is the rate it has recommended for first-grade apartments as part of efforts to regulate an arbitrary and controversial system.
For second, third, and fourth grade tenements, it will be VND7,000, 6,000, and 5,000.
For official and social housing and apartment blocks built before July 1, 1999, the maximum rate will be VND1,000 per square meter.
The regulation comes a few months after a series of disputes at several apartment blocks in which tenants accused the managements of gouging them.
The department described the framework as "reasonable" pointing out that the average monthly income of a four-member family in the city is VND4 million.
The maintenance charges for an old, 40-square-meter apartment would thus be VND40,000 a month, or just 1 percent of the VND4 million which marks the poverty line.
To arrive at the framework, the department carried out surveys and gathered opinions from developers and managers in nine apartment blocks around the city and executives at property developer Phu My Hung Corporation.
It also publicly released the draft last April to get feedback from apartment owners and others.
Most agreed with capping the charges.
But some developers expressed disagreement, saying this should be regulated by the Government through a comprehensive legal framework.
Even some of those supporting the proposed rate cap said it should not be set in stone and the authorities should be flexible in letting them collect higher charges in some cases.
The department said this is provided for by Circular 37 the Ministry of Construction promulgated December 1 to regulate collection and use of the maintenance charges.
Developers can collect higher charges if 50 percent of either apartment owners or the management board – a legal organization voted by tenants to protect their rights -- approves.
But this has to be reported to the province or city people's committee and the ministry.
In case of disputes, the management will comply with the ceilings until the dispute is resolved.
The city's Housing and Real Estate Market Management Department and Department of Justice have agreed to promulgate the rate caps.