Ho Chi Minh City's standing deputy chairman Nguyen Thanh Tai requested Tuesday municipal authorities, at all levels, to resume the issue of land and house papers that have been officially obsolete since the beginning of August.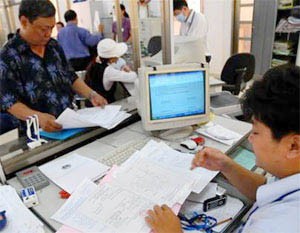 A city resident (R) applies for land and house papers at the Land and House Registry Office in Tan Binh District (Photo: Tuoi Tre)
According to the Amendment of the Law on Capital Construction Investment, since August 1, the two separate certificates "land use right" and "ownership of house and other properties linked with the land" should be substituted with a single form, "Certificate of land use right, ownership of house and other properties linked with land."

Municipal authorities have therefore ceased to issue such papers. However, new certificate was not available when the new regulations came into force.

The problem continues to this day, causing severe problems for hundreds of daily real estate transactions.

As a measure, the city's People's Committee decided to resume the issue of old forms of land and house papers while awaiting the Government's publication of the new form, as well as related guidance.

Mr. Tai also entrusted the Department of Construction to work with the departments of Natural Resources and Environment, and Justice to give guidance to municipal authorities to help them issue land and house papers for a temporary period.