With Tet (the lunar New Year) just around the corner, illegal foreign currency traders in Ho Chi Minh City, mainly jewelry shops, are carrying on business as usual despite being penalized and the police are planning to crack down on them.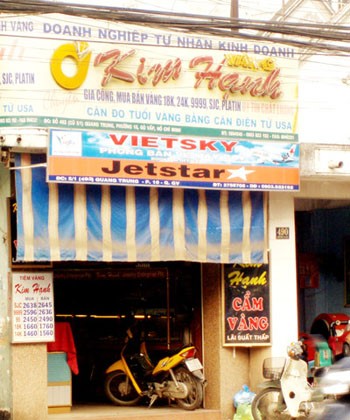 Kim Hanh Jewelry shop in HCM City's Go Vap District continues to still buy and sell foreign currencies a month after being fined in December (Photo: SGGP)
Since December the police have uncovered several such operations.
 
On January 5 the District 1 police caught Dao Van Hung with SGD3,800 (US$2,702) he had just bought at the local Kim Ha Jewelry Shop.
Officers then went to the shop and caught its staff red-handed while trying to sell $1,000.
A search yielded $60,100 among VND8 billion in foreign currencies like dollars, Japanese yen, pound sterling, and others.
On December 18 the Go Vap District police found Minh Thanh 1 Jewelry shop trading $1,400 and seized $13,790 in addition to other currencies.
 
They also caught staff at Minh Thanh 2 trading $1,600.
Three others shops in Districts Go Vap and 2 were also found selling and buying a total of $7,500.
Most of the jewelry shops illegally trading foreign currencies are located around Ben Thanh Market in District 1 and An Dong Market in District 5.
Stricter punishment needed

In December the city People's Committee slapped a fine of VND57.5 million (US$3,000) each on Kim Hanh and Minh Thanh.
But SGGP correspondents found the two of them trading foreign currencies again a month later as if nothing had happened.
Officials can only raid and seize foreign currencies from shops while shop owners usually keep them at home or other safe places, Senior Lieutenant-Colonel Huynh Tri Thanh, head of the Go Vap District police, said.
The city police advised people to carry on foreign currency dealings only with banks or agents licensed by the State Bank of Vietnam and found mainly in large hotels, commercial centers, and airports.
They said they are strengthening their investigations, focusing on those who supply the shops.