The People's Committee in Ho Chi Minh City has asked local authorities to step up checks and crack down on sidewalk encroachers, while also strictly penalising traffic violators.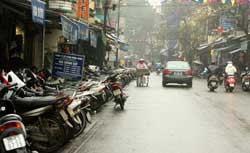 Motorbikes are being parked on pavements in Hang Ngang and Hang Dao streets in Hanoi (Photo:VNA)
To ease congestion, the City Department of Transport has called for investments for parking lots, to accommodate parking for the growing number of cars in the city.

The city construction planners have prepared projects for several multi-storey parking lots in all districts to be complete by 2020.

District authorities are urging more residents to practice good urban living, as a vast number of people still have little civic sense.

For instance, cars still park along Vo Van Tan Street and pavements are still being encroached by vendors on Nguyen Chi Thanh, Tran Hung Dao and Nguyen Trai Streets.
Many residents selfishly think about themselves only and have no respect for the public, continuing to use public spaces for their own use.