Binh Duong Province must clean up polluted Ba Bo Canal as soon as possible, said Ho Chi Minh City leader Le Thanh Hai while visiting the canal.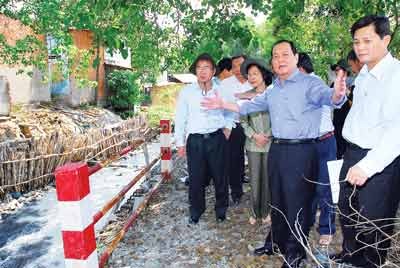 Mr. Le Thanh Hai(2,R) directs responsible heads to improve the Ba Bo Canal
A city delegation led by Mr. Hai met Tuesday with leaders of Binh Duong Province to discuss ways to the deal with pollution in Ba Bo canal, a problem which has affected city residents for years.
Other members of the delegation included Mr. Nguyen Van Dua, standing deputy party secretary for the city; Ms. Pham Phuong Thao, chairwoman of the Municipal People's Council; and Nguyen Thanh Tai, deputy chairman of the People's Committee.
After seeing the polluted canal and listening to complaints by local residents, Mr. Hai asked those responsible to build a waste drainage ditch in the fourth quarter this year so that residents will no longer have to endure the stench of the canal.
At the meeting, Mr. Mai The Trung, a member of party Central Committee and the provincial party chief, accepted that it is the responsibility of his province to treat waste water from industrial Zones.
According to a survey carried out by the province, waste water from 32 enterprises in the Song Than 1 and 2 industrial zones, as well as from 800 households, flows directly into Ba Bo canal.
Mrs. Tran Thi Kim Van, Deputy chairwoman of the provincial People's Committee, promised to require enterprises to use the treatment facilities of the parks as well as strengthen education, information dissemination and impose strict penalties on those who throw waste into canal.
At the end of the meeting, Mr. Hai said that the city will dredge the canal bed and enlarge it in a bid to ensure that the canal can contain 250,000 meter cubic of water.