Ho Chi Minh City plans to expand the high-tech agricultural zone in Cu Chi District, currently under construction and covering more than 80 hectares, it was announced November 3.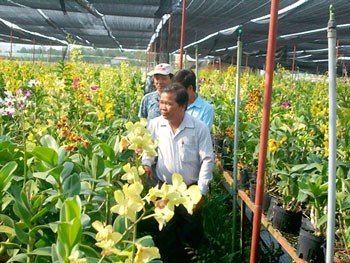 Peoples visit an orchid garden in the high-tech agricultural zone.
The planned expanded area would cover 100 hectares at a residential compound in Pham Van Coi Commune and 100 to 200 hectares of rubber trees in Thai My Ward.
It would be used for farming, livestock and fish breeding, and producing microbiological products as food for plants.
The project is expected to put into operation by 2019, according to the management board of the zone at a seminar on expanding the high-tech agricultural zone.
However, the city's Department of Planning and Investment said that it is difficult to implement the project, as a large sum of money is required for site clearance and compensation for local residents.
In addition, area of rubber trees should be preserved as green spaces in the city.
If the high-tech agricultural zone is placed along the bank of the Saigon River in Binh Chanh District and Thay Cai-An Ha canal in Cu Chi District, which is affected by alum, it will greatly contribute to improving the alkaline soil, as well as helping farmers to apply science in agriculture, the department suggested.
The agricultural zone should focus on dairy cows, crocodiles, shrimp and ornamental fish breeding, said Dr Chung Anh Dung, from the Southern Institute of Agricultural Science and Technology, and Dr Nguyen Tuan, from the Research Institute for Aquaculture No.2.
Deputy Professor Nguyen Hung, deputy head of HCMC Agriculture and Forestry University, said that businesses should cooperate with farmers in producing and promoting their products.