Le Nguyen Minh Hoang, 22, a Ho Chi Minh City-based university student, says his daily commute between home and school has become more stressful because of the worsening traffic congestion in the city.
"Whenever I see a crowd ahead, I have to immediately find another way to go," Hoang said.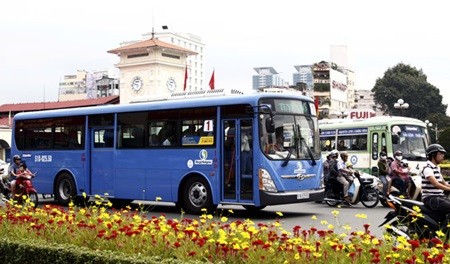 A bus that runs on compressed natural gas at Ben Thanh Market - Cho Lon Station in HCM City. — VNA/VNS Photo Hoang Hai
For Vu Ngoc Thieu, 46, a freelancer in HCM City's Binh Thanh District, traffic jams are also a daily issue. They occur not only in peak hours in the morning and afternoon, but also at noon, he says.
Another city resident, Hoang Thi Thuy Van, 39, who works for a Japanese company in District 7, says she is frustrated daily by the terrible traffic.
"I always get stuck in the congestion. It takes one hour to return to my house within a short distance," she says.
Meanwhile, Tran Van Tai, a retiree in HCM City, says traffic is so chaotic that even when he drives his motorbike slowly, close to the sidewalk, other bikes sometimes hit him.
The traffic condition in large cities like Ha Noi and HCM City has worsened in recent years and complaints are rising. Still, people have no choice but to rely on their personal vehicle, mostly motorbikes.
The ordinary buses, 3,000 in all and running on 107 routes, are the only public transport in HCM City. Despite reasonable fares due to heavy Government subsidies, the buses can only meet about 5.4 per cent of the needs of city residents.
An urban transport plan for HCM City until 2020 has given priority to public transport.
The plan's objective is to increase the rate of public transport usage in urban areas to between 25 per cent and 30 per cent by 2025, from the current 5.4 per cent.
Bus project
The World Bank recently approved a loan of US$124 million to improve the efficiency of public transport in a high-priority corridor in the city.
The project will finance a BRT (Bus Rapid Transit) corridor between An Lac in the southwest and Rach Chiec in the northeast along the Vo Van Kiet and Mai Chi Tho highways.
Once completed by the end of 2018, the system — covering 23 km with 28 stations — will be able to transport up to 28,300 passengers a day.
Its design, addressing the needs of women, children and people with disabilities, will include keeping all bus and station doors at the same level, making it easier for passengers to board and exit buses and load strollers and other items.
The stations will have low-slope ramps for wheelchair access.
The project will also finance at least 28 buses running on compressed natural gas, a cleaner fuel that reduces emissions.
The project will seek to showcase the advantages of BRT, help city authorities prepare for a proposed six-line network, and lay the foundation for HCM City to build institutions needed to run an integrated public transport system in the future.
The metro, tramway, BRT and bus lines will be coordinated to provide users with an integrated service that makes travel convenient. This will include a unified fare structure integrating stations and stops of different modes so that transfers are seamless and convenient.
By building up the capacity of HCM City's existing institutions to handle urban transport management and operations, the project will pave the way for the eventual establishment of a unified Public Transport Authority that will co-ordinate strategy, services and fares across all public transport modes.
The project will cost $137.45 million and be financed by an International Development Association credit equivalent to $124 million. The remaining amount ($13.45 million) will be provided by the Vietnamese Government.
The IDA credit will have a maturity of 25 years, including a grace period of five years, according to a press release from the World Bank Viet Nam.
HCM City, Viet Nam's economic hub, generates a fifth of the country's gross domestic product. Along with its surrounding region, HCM City accounts for almost half of Viet Nam's total manufacturing output.
The country's biggest city had a population of more than 8 million last year and is expected to reach 10 million by 2020, which would pose many challenges, notably public transport.
Statistics in 2014 show that the city took the lead in the number of personal vehicles, with nearly 600,000 cars and more than six million motorbikes, accounting for 25 per cent of the country's motorbikes