A colorful festival featuring numerous exciting activities will be held from January 27 to February 11 in downtown Ho Chi Minh City to welcome the Lunar New Year or Tet next month, according to Saigontourist.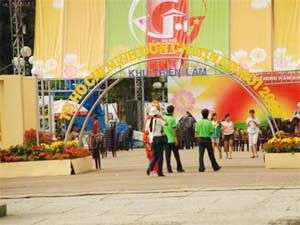 The September 23 Park is decorated in preparation for the upcoming festival.
All four major streets in the city center, namely Le Duan, Le Loi, Nguyen Hue and Dong Khoi will be illuminated by colorful neon lights from January 26 to February 14.
In addition, two music shows will be held on February 5 to inaugurate the outdoor flower festival on Nguyen Hue Street which will be opened to visitors from February 5 to 10.
The street will be decorated according to the main theme "Riding over the waves" in which funny, eye-catching figures and ornaments related to the Year of the Rat will be used to blow a refreshing look to the flower street.
A music show will also be held on Le Loi Street on the Lunar New Year's Eve followed by six firework displays in six different locations. Each of them will begin right at 00: AM on February 7 and last for 15 minutes. 
Notably, a "Banh Tet" (cylindric glutinous rice cake) festival will be held on February 10 in the form of a carnival with a parade of flower boats characteristic of southern Viet Nam with three figures representing happiness, wealth and longevity, besides a pair of gigantic cylindric glutinous rice cakes and hundreds of folklore performers.
Moreover, a live broadcast will be made via the Internet to connect HCMC and other provinces which are famous for their delicious traditional rice cakes like Ha Noi's Thanh Tri District and the southern Can Tho City.
Six artisans specialized in rice-cake making from HCMC's Cu Chi District will also be invited to the festival to help making 2,000 square glutinous-rice cakes with local residents. The cakes will then be given to disadvantaged children. 
This is the fifth consecutive year the Saigontourist Holding Company has acted as one of the main organizers of the city's annual grand celebration to welcome the Lunar New Year.     
Related article:
Tet Fireworks to Light up HCMC