The city Transport Department Monday asked for more volunteers and traffic police officers at conjunctions where traffic congestions frequently occur and urged local authorities to quickly finish road constructions on Hanoi Highway.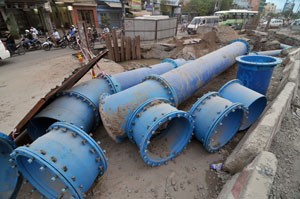 A road construction on Hong Bang Street occupies road space, causing to frequent traffic congestions. (Photo: Viet Dung)
The department announced the measures to ease traffic jams in the meeting with city Party Committee and People Committee yesterday after the committees required it to report how to resolve street blockage in the city.
The committees also asked local authorities to limit maximum risk for traffic jams while constructing roads, use so many solutions to hastily finish the constructions on blood- vessel highways, building materials must be kept in those places that do not barrier transport.
The committees also requested traffic police and the department to strictly fine those contractors who are sluggish in road construction, occupy road space for their sites