HCM City will boost investment in construction and investment in transport infrastructure in the remaining months of the year, said leader of HCM City at a periodic meeting to assess the results of the performance of social-economic plans in for the last eight months.

Chaired by chairman of the HCMC People's Committee Le Hoang Quan, the meeting also outlined necessary tasks for September.

Standing deputy chairman of the city's People's Committee Nguyen Thanh Tai announced that although facing many difficulties due to the ongoing financial crisis, many financial and economic indices are reported to have recorded positive growth.

Such an achievement suggested that the city has carried out measures to curb economic recession stipulated by the central government in an effective and efficient way, added Mr Tai.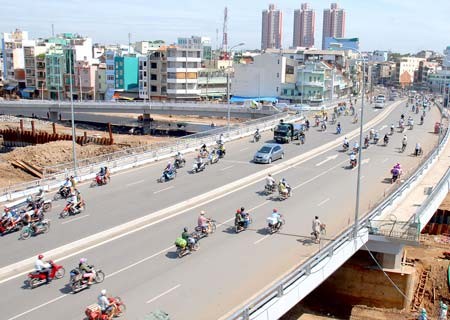 Newly-built Cha Va Bridge has recently been opened to traffic to help ease congestion in HCM City (Photo: SGGP)
Vo Van Luan, chief of the city's People's Committee secretariat, reported that the agricultural sector in the first eight months of the year had achieved a stable and high growth rate, while industry has seen a recovery and enjoyed month-on-month growth.

Industrial production is estimated to have reached VVND276 trillion, an increase of 5.5 percent over the same period last year, of which, non-State industrial output is expected to rise to 8.1 percent and gross output of industry with foreign investment 7.9 percent, Mr Luan said.

The output of local State industry, however, is estimated to see a fall of 9.3 percent, added he.

Social security policies have also been carried out effectively, especially those related to education, health and hunger eradication and poverty alleviation, said Mr Luan. Specifically, since early August, the city has created jobs for 30,400 workers, among them, 27,000 are working on long-term employment contracts.

As to the education sector, representatives from the Department of Training and Education reported the availability of over 600 newly built classrooms, which will be put into operation as soon as the new school year starts.

The Department of Industry and Trade said that it will ensure the adequate supply of ten kinds of necessities for city residents' celebrations of the Lunar New Year (Tet) holidays in 2010. He also asserted that that the prices of such necessities will be ten percent lower than the market prices.

Figures from reports by the city's People's Committee revealed that the city's tax revenue in the first eight months of the year is estimated to reach VND82.8 trillion, making up 67.3 percent of the whole year's estimated budget, a decrease of 3.7 percent over the same period last year.

Le Hoang Quan requested tax agencies to carry out more checks to find companies committing tax invasion to collect payment arrears.

For the city's development plans for the remaining months, Mr Tai recommended that relevant district and ward authorities throughout the city exploit every favorable condition to speed up economic growth until the end of the year.

Mr Tai emphasized on speeding up administrative procedure reforms for investments in capital construction and transport infrastructure.

He said, "Investment in transport infrastructure will be boosted, as its current sub-standard quality will be an obstacle to the city's economic growth in 2010."

To facilitate the building of modern systems of bridges and roads, districts and wards in the city should speed up land clearance and resettlement projects, said Mr Tai. They were also requested to carry out measures to ease traffic congestion.

Mr Tai promised that the city government will try its best to mobilize investment funds for construction of transport infrastructure in various ways, especially for important and emergency projects.