Prime Minister Nguyen Tan Dung has asked the Planning and Investment Ministry to earmark VND4 trillion ($230 million), from the sale of government bonds, to build dormitories for 100,000 students in Ho Chi Minh City.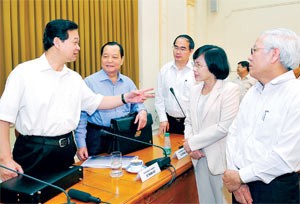 PM Dung (1st left) discusses the city's housing projects with city leaders on March 14 (Photo: SGGP)
At a meeting with the HCMC People's Committee on March 14 to remove impediments in building houses for students, workers and low-income earners, he said the government will provide accommodation to students but it will not subsidize power, water and maintenance services.
 
Students will have to pay to stay at the dormitories. The hope is to make students practice thrift and protect common facilities.
 
The PM said the city needs to build dormitories in the city's northeastern area where there are many campuses of the HCMC National University (HNU).
 
The committee should work with the university on building a housing and urban area for students, with supermarkets, essential facilities and a convenient transport system, he added.
 
The city has to have a model housing and urban area for students like other countries by 2010, Mr Dung said.
 
After reviewing the city's social housing and dormitory projects, PM Dung approved the plans and said they are appropriate to the Construction Ministry's projects.
 
The city currently has 70 universities and colleges with 328,475 students, 230,000 of them, from provinces and other cities, are in need of accommodation.
 
The city has 64 dorms with 5,230 rooms, which can only accommodate 39,000 students.
 
The city plans to build dormitories, which can accommodate 30,000 students, at the HNU area by 2010.
 
The city has told the university to build dormitories for 60,000 students by 2015. The fund for construction can be raised from the provinces and cities whose students study in HCMC.
 
The city plans to spend VND2.1 trillion building housing for students between 2009 and 2015.