Ho Chi Minh City Public Management and Operation Center announced on Tuesday that from January 1 next year, bus fares will be revised on subsidized routes.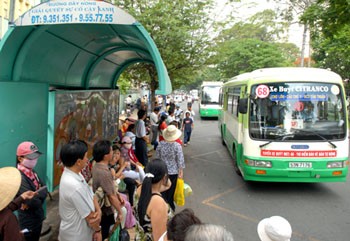 Commuters waiting at a bus-stop in HCMC (Photo: SGGP)
Accordingly, bus fare on routes of 18 kilometer distance will be charged VND4,000-5,000 per trip, instead of the 31 kilometer distance at present.
Students will now pay VND84,000 for a booklet of 60 tickets for travel on all subsidized routes, with the exception of bus routes 13, 94 and 96.
Ticket booklets for other people will cost VND90,000-112,500 for a set of 30 tickets.
Fares on the two bus routes 13 and 94 (Ben Thanh to Cu Chi Bus Station and Cho Lon Bus Station to Cu Chi Bus Station) will cost VND7,000 per trip. Tickets booklets, available only for students, will be priced VND90,000 for a set of 30 tickets.
Fare on bus route 96 from Ben Thanh to Binh Dien Market will remain unchanged at VND10,000 per trip.