Ho Chi Minh City will spend VND380.6 billion on stabilizing prices of eight essential goods from June 6, 2010 to March 31, 2011.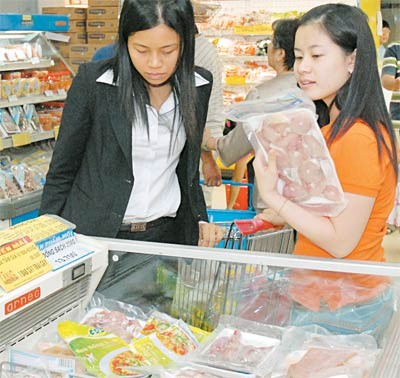 Shoppers check out frozen foods at a supermarket in Ho Chi Minh City (Photo: SGGP)
The city Department of Industry and Trade made the statement on June 18 after working with 14 enterprises that will attend the price stabilization program.
The price-stabilized goods include rice, sugar, cooking oil, red meat, poultry, poultry eggs, fruits and vegetables, and processed foods.
These goods will be 10 percent lower than market prices.
With the reduction, prices of rice will decrease by VND1,000-1,500 per kilogram, sugar will drop VND1,000 per kilogram, cooking oil will fall by VND4,000 per kilogram and red meat will reduce by VND2,000-7,000 per kilogram.
The department said reserve stocks of these commodities will be maintained, which will equal 20 percent of the city's consumption until the end of this year.
The city will provide interest-free loans to participating companies, including Saigon Trading Corporation, Vissan, Cau Tre, Saigon Industrial Foodstuffs Joint Stock Company, Saigon Agriculture Incorporation, Saigon Trade Cooperative, Food Company of Ho Chi Minh City, Vinh Phat, Huynh Gia Huynh De, Phu An Sinh, Thanh Cong, Ba Huan, Vinh Thanh Dat and Vinatex supermarkets.