Le Hoang Quan, Chairman of the People's Committee in Ho Chi Minh City on February 25 instructed concerned departments and all districts to speed up progress on the main traffic projects which have investments from the City budget.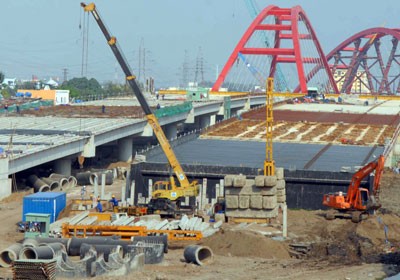 Tan Son Nhat-Binh Loi outer belt road under construction in HCMC (Photo: SGGP)
Mr. Quan was speaking at a meeting to assess the City's socio-economic condition in the first two months of the year, in which he said that in the first phase, the City would allocate VND16.77 trillion (US$804 million) from the budget and from official development assistance (ODA) for these projects.
The City will distribute VND569 billion of reciprocal capital to ODA projects; VND1.55 trillion for site clearance and compensation of metro routes No.1 and 2 and Tan Son Nhat-Binh Loi outer belt route, construction of two roads connecting Vo Van Kiet Highway with HCMC-Dau Day Expressway, and HCMC-Trung Luong Expressway.
Besides, VND4.44 trillion will be distributed to projects that will be completed in 2013 and VND1.99 trillion for start of new projects.
According to the People's Committee, the socio-economic condition has been quite stable in the first two months of this year and the retail sale value of goods and services saw an increase of 10.2 percent over the same period last year.
Meantime, consumer price index (CPI) growth rate curbed at 1.44 percent, partly due to the price subsidized program. Export turnover reached US$4.49 billion, up 21.4 percent year-on-year.
However, chairman Quan stressed that relevant authorities should pay more attention to help medium and small businesses resolve their difficulties.
According to a report of the Department of Finance, the City budget increased by only VND33 trillion in the first two months of the year while the Central Government has set a target for VND238 trillion for the entire year.
Chairman Quan has now instructed the Finance Department and the Tax Department to examine sources to collect tax and tax exemption policies for businesses.
The number of foreign visitors to HCMC rose by 8.6 percent to reach 701,000 in January and February, bringing in revenue of nearly VND14 trillion, up by 22.2 percent year-on-year.
Currently, foreign invested capital in the City is at $66.5 million, an increase of 14.4 percent over last year.
The City has licensed 2,684 new businesses with total registered capital of VND11.36 trillion. This is a hike of 10 percent in number of businesses but a fall of 23 percent of registered capital.