HCM City plans to launch a pilot programme on using technology to control and trace the origin of pork in an effort to ensure consumer health and benefits.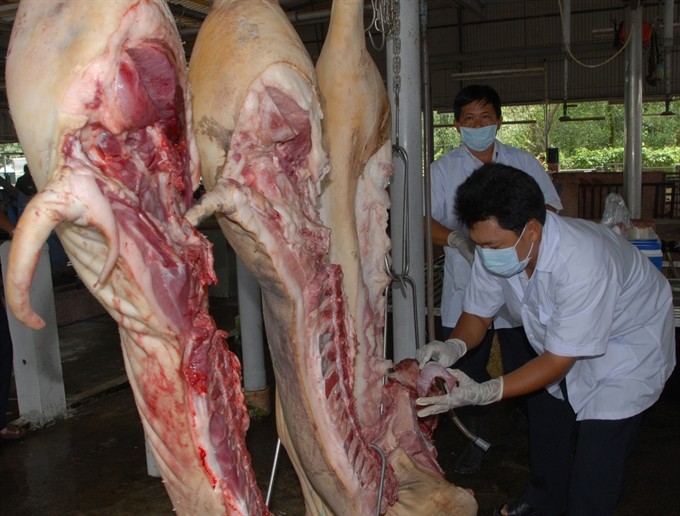 A worker on animal health takes pork samples for tests of food safety and hygiene in HCM City's Bình Chánh District. The city will launch a pilot programme on using technology to control and trace the origin of pork. – VNA/VNS Photo Hoàng Hải
The programme will help pig breeders build brands and improve competitiveness, as well as provide better oversight over hygiene and food safety, according to the city Department of Industry and Trade (DoIT).
It is part of the city's pilot project on creating safe food markets in the 2016-20 period implemented by the DoIT, with technologies used to trace pork origin developed by the HCM City High Technology Association.
Under the programme, pigs at breeding farms will wear two leg rings with an electronic stamp, which will record information about feed and vaccinations and other data. This will aid in individual identification of pigs as well.
Before slaughtering, quarantine staff will check and grant electronic quarantine certificates for pigs that meet hygiene and food safety standards.
When pork is transported to markets, market management boards and quarantine staff will use specialised machines to check the pork origins and allow the meat with clear origin to enter markets.
Traders at traditional markets who take part in distribution of meat under the project will be provided with an "electronic stamp" (integrated with the stamp attached on leg rings) to put on pork products.
Đào Hà Trung, chairman of the HCM City High Technology Association, said consumers could check product information with their smartphones and scan the stamp, or use devices set up at markets. They could also access the programme's portal at www.te-food.com.
"Consumers can check the product origin anytime and anywhere. The information will be automatically transferred to relevant agencies for easy inspection and control," he said.
Trần Vĩnh Tuyến, deputy chairman of the HCM City People's Committee, said this was one of several important measures to reduce the amount of unsafe meat as well as create conditions for consumers to use more safe products.
Initially, the programme will be carried out on a trial basis at 12 slaughterhouses; Hóc Môn and Bình Điền wholesales markets; Bến Thành, Hòa Bình, Bàu Cát, Thái Bình and An Đông markets; and Co.opmart, Co.opFood, Satramart, Satrafood, Vissan and Sagrifood stores.
The department has worked with provinces that supply meat to the city market, as well as slaughterhouses. It will work with traders to disseminate the programme and mobilise more participants to expand the scale of the programme.
Huỳnh Tấn Phát, deputy head of the HCM City Animal Health Department, supports the programme but said agencies should pay more attention to the practical situation of food trading and adopt proper technical solutions.
The city consumes 10,000-10,500 pigs per day, but supplies meet only 18-20 per cent of demand.
The rest is supplied by other provinces, including Đồng Nai, Bình Dương, Long An, Bến Tre, Bà Rịa-Vũng Tàu and Bình Thuận.
About 7,300-7,500 pigs are slaughtered at slaughterhouses in the city each night, and the rest in other provinces. They are then transported to Bình Điền Wholesales Market.
To ensure the efficiency of the programme, provinces supplying pork to the city should offer their consent.
At wholesales markets, in addition to selling half sides of pork (that still have an ID ring), traders also sell pork cuts (tenderloin, ribs and others) that are hard to manage since the ID sign no longer exists.
Văn Đức Mười, general director of Vissan, said the implementation of the programme would help control the safety of meat sources, but would only become feasible when it was implemented at most breeding farms, slaughterhouses and retail places.