The Ministry of Public Security and the People's Committee of Ho Chi Minh City on August 14 held a firefighting and rescue drill for the very first time.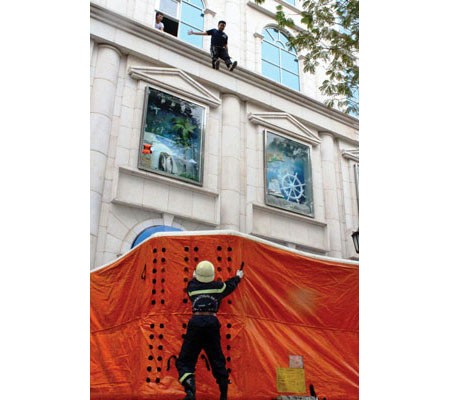 Rescue and firefighting drill takes place at Diamond Plaza (Photo: SGGP)
Nearly 2,000 people joined in the firefighting drill, which included firefighters, police, army soldiers, local residents, 10 police dogs, two helicopters and 80 vehicles.
The location was Diamond Plaza in District 1.
The drill rehearsal scenario was that of a huge explosion caused by a gas leak while cooking at the fifth floor of the Plaza at 9.30 at night.
The explosion brings down a part of the plaza resulting in panic among 2,000 people, while 200 more are trapped inside the building.
The Firefighting Department in the City and other forces deploy equipment and personnel to control the fire and rescue people.
People trapped in the fire would be rescued from atop the roof by helicopters.