Ho Chi Minh City Party Chief Le Thanh Hai has asked relevant agencies to arrange resettlement for the city's involved inhabitants on schedule and implement the city's housing program strictly.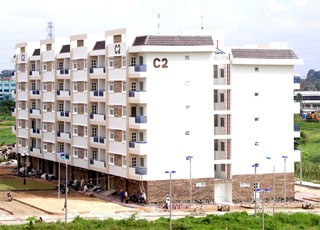 A new apartment in a resettlement area in the city's District 9
At a meeting with the city's People Committee, the Construction Department, and related agencies on compensation and resettlement for inhabitants, Mr. Hai noted that the resettlement has to ensure a stable living for inhabitants, not just stop at meeting targets.

The city authorities agreed that if construction of houses which are built with the State budget for inhabitants to resettle is not finished in time, investors must cover expenses for inhabitants' temporary settlement until the construction finishes. In addition, the investors will be punished for violation of their contract.

For housing projects which are not funded by the State budget, the investors will not receive land or permission to tender projects within three years if they don't perform their duties in time.

Mr. Hai said investors who don't carry out projects on schedule would be punished severely.

He claimed that the Construction Department acts as a steering board for housing and land in the city but has yet to advise the city's People's Committee on good policies for housing development.

The Department has to play a leading role in conducting the city's housing program. The steering board should focus on construction of accommodations first, and it will formulate policies of management afterwards, he added.

He brought out three core points for implementing the housing program in the period 2006-2010. They are completely re-building broken apartments in the city, building dormitories for workers, and supplying accommodations to 15,000 households living along channels for their resettlement.
Action plans for the city's Housing Program 2006-2010 period

* The city's budget:
- Building 30,000 new houses for resettlement (1.8 million square meters)
- Re-building old apartments (0.3 million square meters)

* Social housing:
- Houses for workers to rent (1 million square meters)
- Houses for low incomers (1.1 million square meters)
- Houses in residential areas (7.5 million square meters)

* Individual housing:
- Repairing and expanding houses (5 million square meters)
- Building 15 million square meters of new houses