Ho Chi Minh City has increased the use of information technology in public administration, helping usher in e-governance, according to a Government report.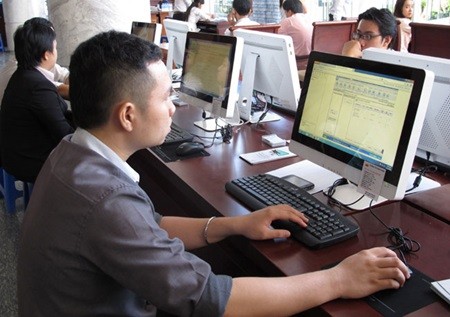 HCM City Social Insurance has run a pilot programme, applying information technology to manage workers' social and health insurance books. (Photo: VNA/VNS)
Vo Thi Trung Trinh, deputy director of the city Department of Information and Communications, said the administration, districts, departments, and corporations have been connected to a single system, and meeting invitations are sent through email, smart phone and SMS and meetings are held securely online.
All 24 districts have installed the same software programmes, she said.
So far more than half a million documents have been sent electronically from 177 offices, she said.
In 2016-20 the city will set up an e-office to manage administrative operations and offer online public services to the public and businesses. The city will also integrate and link all its administrative units.
But Trinh admitted that some problems exist with online payment of fees for public services due to the lack of a legal framework for such payment.
To handle problems, the Department of Information and Communications has improved the website http://dichvucong.hochiminhcity.gov.vn on which many online activities can be done.
Tran Thi Binh Minh, deputy director of the Department of Planning and Investment, said her department also provided public services in areas like land, business-related issues, and investment promotion online.
Hong Van Hai, head of the Judicial Department's criminal record section, said the judicial and information and communications departments are jointly working on a pilot software programme to verify the birth, death and marital status of citizens.
The programme, to be tested next year, will help cut the time needed for people to apply for a criminal record certificate.
E-governance
At a recent meeting on e-governance held in the city, Nguyen Quang Trung of the HCM City Open University said there are three essential elements in the success of e-governance: government management capability, information and communications technology infrastructure and human resources, and local conditions.
Government capability includes leadership, funding for project deployment, e-governance development strategy, capacity of project managers, and legal framework, he said.
Infrastructure refers to computers, mobile devices and the internet, but a lack of public familiarity with computers is a major hurdle.
"Age, ability to use computers, internet availability, and locations will affect the success of e-governance," Trung said.
"E-government projects should get the highest priority with respect to focus, funds and human resources and should take advantage of international support."
Le Doan Hop, a former information and communications minister, underlined the need for e-governance, saying, "All public requirements can be fulfilled by the Government without meeting face-to-face, and it will prevent corruption."
Though it has been in the works for a long time, in Viet Nam e-governance remains in a fledgling stage compared with elsewhere, he said.
"The country's e-governance system should link the central government with communes, businesses and people."
Viet Nam should use international models like those used in Israel and Singapore, he said.
In a 2014 UN survey, Viet Nam ranked 99th out of 193 countries in the E-Government Development Index, and 26th out of 47 in Asia, though ranking ahead of Malaysia and Thailand.
The survey was based on three components: online services, telecom infrastructure, and human resources.
In its Networked Readiness Index, the World Economic Forum ranked Viet Nam 85th out of 143 nations last April, one place lower than last year.