Herman Van Rompuy, President of the European Council, laid a wreath at the Monument of Heroic Martyrs and visited the Ho Chi Minh Mausoleum on the morning of November 1, during his official visit to Vietnam.
Mr. Rompuy also held a meeting with National Assembly Chairman Nguyen Sinh Hung.
Chairman Nguyen Sinh Hung praised the recently signed Partnership and Co-operation Agreement (PCA) and expressed his appreciation for the Free Trade Agreement (FTA) negotiations which are currently underway.
He said in a meeting with the visiting European Council President in Hanoi yesterday that this agreement is crucial for expanding bilateral ties.
He added that Vietnam always strives to build fair partnerships and encourages comprehensive and long-term co-operation with the European Union (EU) to promote development around the region.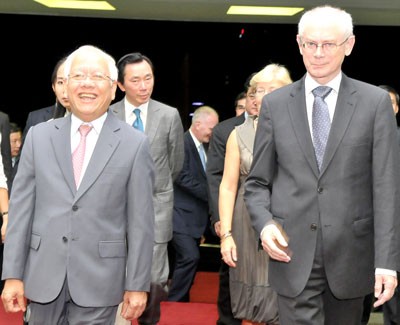 Le Hoang Quan (L), Chairman of HCMC People's Committee meets Herman Van Rompuy, European Council President (Photo: SGGP)
He hoped that Mr. Rompuy will facilitate co-operation between the Vietnamese NA and the European Parliament (EP) in the near future.
Mr. Rompuy replied that the EU is keen to work with both ASEAN and Vietnam in the future and is actively working to recognize the country's market economy. He declared that the EU and the EP have been impressed with the Vietnamese Government's question-and answer sessions at the NA, saying that the event underlines the legislature's dynamism and new approach.
Also yesterday, Chairman of HCMC People's Committee Le Hoang Quan met with Mr. Rompuy.
At the meeting, Mr. Quan said there were about 450 European Union offices in the city, as well as more than 450 projects invested by EU countries with total investment capital of more than US$3.5 billion.
He was pleased that exchange between HCMC and the EU has been increasing. In 2011, the city imported European products worth 1.5 billion Euros ($1.9 billion) and exported 2 billion Euros worth of goods.
He expressed his wish that the President and the European Council would continue to support ODA capital sources and non-refundable aid for community service projects such as poverty reduction, education improvement and climate change prevention and control in Vietnam in general and HCMC in particular.
Chairman Quan hoped Mr. Rompuy's visit will contribute to furthering bilateral ties between Vietnam and EU in the near future.
On his part, Mr. Rompuy expressed his pleasure at visiting HCMC and affirmed that EU would be willing to contribute to the development of Vietnam.
The European Investment Bank will offer financial aid worth 640 million Euros ($830 million) to Vietnam, he said. The bank will also invest in subway projects in HCMC.