How to help businesses survive impacts of the global economic turmoil was the focus of a dialogue between standing deputy chairman of the HCM City People's Committee Nguyen Thanh Tai and young entrepreneurs on March 27.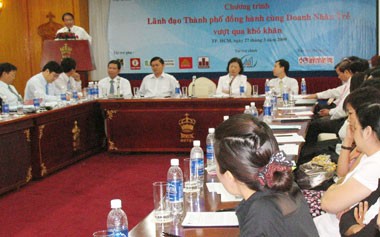 HCM City's leaders and representatives of the city YBA, March 27, focus on how to help businesses overcome the current difficult economic situation. (Photo: SGGP)
As part of a series of events for the 2009 National Youth Month, launched on March 1 by the HCM City Communist Union and the HCM City Young Businesspeople Association (YBA), more than 200 representatives of about 750 entrepreneurs of YBA attended the dialogue.
Most of the opinions at the event centered on current hot issues, such as four percent loans, tax problems, electric and water prices, technological development, allowance for laid-off workers and social security.
Lam Trong Son, director of the Gosaco Wood Co., pointed out that city-based wood processing businesses have yet to receive the city's subsidy of 50-100 percent loan interest payment.
Pointing to support for the manufacturing mechanical sector, Do Phuoc Tong, director of Duy Khanh Mechanical Co., complained that a lot of mechanical equipment is imported at an import duty of zero percent, while domestic production of the same equipment suffers from very high costs since imported materials needed for production have been highly taxed.
This problem has hampered the development of local businesses, weakening their competitive edge compared to rivals in neighboring countries, he said, adding that a re-examination of relevant tax policies is necessary.
Regarding this issue, Mr. Tai asked business associations to review the list of taxable items to make sure whether they are reasonable or not, and make suggestions to the Government for a change, if necessary.
Employment was also an important issue, with many businesses saying that they might cut down their work forces in the coming future.
The director of Easy Dreams Trading Corporation said his company was considering a reduction in its workforce of 800 due to slowing markets. The company would pay each redundant worker four months salary, he said.
He complained that the tax authorities have not allowed for the payment to be included in his company's operating expenses.
"We are facing many difficulties, so the tax authorities should apply a more flexible mechanism to help us deal with the situation," he suggested.
Thai Van Re, director of the city's Planning and Investment Department, said measures to support businesses are mentioned in Decision No. 20 by the city authorities on the investment stimulus program, including a support of 50-100 percent loan interest payment to businesses.
Any businesses with queries should contact the head of the Economic Division of the department, Trang Trung Son, for explanations.
Regarding the electricity sector's change of peak hours in its calculation of power prices, Quach To Dung, deputy director of the city's Department of Industry and Trade, said, "The sector could not raise power prices as it expected, so it has made such a change in peak practice to increase its revenue. This action is affecting most businesses in the city. We will release a dispatch in this issue to other ministries and the government for consideration."
To strengthen the relationship between businesses and local government, Mr Tai asked all the directors and deputy directors of the city's departments to publicize their phone numbers to businesses.
"Sharing difficulties with businesses and helping them survive the current hard times is one of the leading tasks of the city's leaders towards fulfilling socio-economic targets set for this year," Mr Tai emphasized.