The Ho Chi Minh City's Youth Federation has, in the last five years, focused on helping youths stabilize their life, Bui Ta Hoang Vu, its chairman, said while reviewing its performance in the period.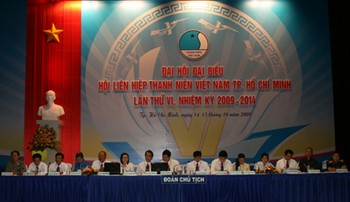 The 6th congress of the HCMC Youth Federation in progress on October 14 (Photo: thanhnien.hochiminhcity.gov.vn)
Speaking at the federation's 6th congress which opened October 14 to mark the beginning of the 2009-14 term, he said the federation has "traveled" with the youth in their studies and work.
The Federation's leaders at the ward and commune levels lag in professional and political skills, he admitted, while long-term and strategic plans to train them and develop new leaders are not in place.
He unveiled the Federation's three main campaigns for the next term: calling on youth to lead a good and useful life and promote social welfare and environmental protection and help them set up businesses.
He also announced the Federation's other programs for the next five years.
The congress, being attended by 496 delegates, representing over 500,000 members in the city, continues until October 15.