Ho Chi Minh City's agricultural sector has been thriving after it diversified and cut reliance on growing rice since 2001, following a policy by President Nguyen Minh Triet, at that time the city's Party Secretary.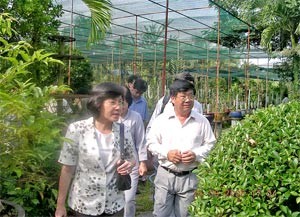 Pham Phuong Thao, Chairwoman of the HCMC People's Council, visits Minh Tam Bonsai Farm in the city's Cu Chi District (Photo: SGGP)
As many as 72 percent of the city's farming area, about 50,000 hectares, was paddy fields, though growing rice generated the lowest profits and productivity was 30 percent lower than the national average.
 
To increase incomes, farmers switched to breeding or growing fruit and vegetables, which could reap larger profits.
 
For a long time, Nha Be and Can Gio districts could grow only one crop a year and harvest only one ton of rice per hectare.
 
The two districts began to revive when they switched to breeding tiger shrimp, with 1,400 farms, over 50 percent of the city's shrimp farms.
 
Many investors around the city and other provinces have come to Nha Be and Can Gio to set up shrimp farms, helping the city's seafood sector increase by 30 percent per year in 2001-2005.
 
Viet Nam Diary Products (Vinamilk) has played an important role in the development of the city's dairy farms, as it has bought almost all of the milk from the farms.
 
Breeding dairy cows has helped farmers improve their lives. If a household breeds five cows, they can earn a stable income of VND45 million (US$2,575) a year.
 
At present, the city has over 60,000 dairy cows which can produce 4,200 kilograms of milk through the milking cycle.
 
The area of vegetable farms has also increased but not as much as that of shrimp farms. However, vegetable farmers can earn VND150 million ($8,580) per year per hectare.
 
Farmers along the banks of the Saigon River and the Dong Nai River in districts 12, 9, Cu Chi and Hoc Mon have planted orchards, which have also helped make them tourism destinations.
 
Besides shrimp, Can Gio District also breeds swallows, which are said to be a potential new source of farming.
 
Breeding crocodiles has also developed strongly in the city.
 
Crocodile farms, accommodating 150,000 crocodiles, are not only tourism attractions but also produce crocodile products for export.