Having been around for hundreds of years and seen many significant historical events, Ben Thanh Market has become one of the symbols of the country's most crowded city. For the market's contribution to the country's development, the State awarded it the third-class Labor Medal.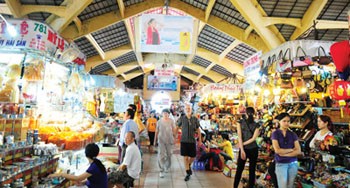 A corner of Ben Thanh Market in HCMC (Photo: SGGP)
Clearly understanding the rise and fall of Ben Thanh, Hong Dao, a trader in Ben Thanh for 30 years, said that the State subsidization was the most difficult phase.
Since the country began economic innovation in 1986, it blew a fresh wind through the market and Ben Thanh successfully changed its look in 2000.
The market management board in recent years has re-planned the market to ensure hygiene, safety and convenience for customers.
The board has also listened to the market traders' opinions to improve its management, she said.
As a result, the market has achieved all its norms and targets.
In 2004, the taxes that Ben Thanh submitted the State budget was VND18 billion (US$1 million), which increased to VND32 billion ($1.8 million) in 2008.
The market management board has done well in democracy, financial disclosure, and anti-waste principles, said the boards head, Nguyen Ngoc Tuan, who was also awarded the third-class Labor Medal.
In addition, the board annually saves hundreds of millions dong on electricity and water costs, cuts management fees by tens of millions dong and strengthens services to raise the funds for the market, as well as the State budget.
Mr. Tuan said that he began working there in 1999 and met many difficulties in getting close to traders, as well as persuading them to participate in organizations in the market.
 
The conditions are better now, with women and youth associations, as well as other organizations in the market, operating well, he added. A lot of traders in the market are also Party members.
Pham Kim Mai said that she has done business here since 1992 and thought that she just needed to focus on her trading.
However, Mr. Tuan told her that becoming a Party member, she could reflect traders' opinions to the management board more easily and help them to clearly understand policies of the Party and the State. As a result, she became a Party member in 2008.
Hong Dao said that after becoming a Party member, she clearly understands her rights as well as responsibilities. Now she can contribute in protecting rights for other traders in accordance with the Party and State policies.