Youth union branches have to give trusting support to youngsters whenever and wherever they need, said Vo Van Thuong, First Secretary of the Central Committee of the Ho Chi Minh Communist Youth Union during a speech at the ongoing Youth Union's 8th congress.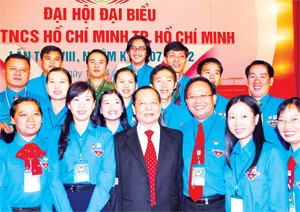 Le Thanh Hai (dressed in black suit), Secretary of the Municipal Committee of the Party, poses for a picture with members of Youth Union branches
Yesterday, approximately 450 representatives from 115 youth union branches around Ho Chi Minh City took part in the first day of the 3-day meeting.
 
The congress is expected to assess the successes and shortcomings of Youth Union activities over the past six years, as well as sketch out plans for the next five years.
 
Representatives will also discuss solutions for seven major tasks for the municipal Youth Union. 
These include improving the quality of its activities, training and boosting vocational skills for youngsters, establishing a club for young businessmen and increasing awareness of road safety among young people.
 
Speaking at the opening ceremony, Le Thanh Hai, Commissioner of the Ministry of Politics and Secretary of the Municipal Committee of the Party, encouraged young people to be pioneers in efforts to deal with socio-economic problems.
 
A dialogue will also take place between the city's leaders and members of Youth Union branches.  This aims to provide participants with a good opportunity to exchange views on how to develop and take advantage of human resources available to young people in Ho Chi Minh City.  Thus providing information about meeting the changing requirements of the country's expanding economy.
 
As a reputable organization which takes the initiative in many activities for Vietnamese youth, the Ho Chi Minh Communist Youth Union has carried out more than 70,000 activities. 
 
As a result, about 15,000 outstanding members of the youth union have become members of the Communist Party. The union has offered subsequent help in the form of loans, approximately VND84 billion (US$5.2 million) in a bid to help youth launch new careers and assisted about 400,000 people find jobs.