Ho Chi Minh City's export processing zones (EPZs) and industrial parks (IPs) need to focus on attracting more large-scale, hi-tech industrial projects, with priority given to electronics, telecommunications, information technology, chemical and mechanical engineering and food processing, officials said on Tuesday.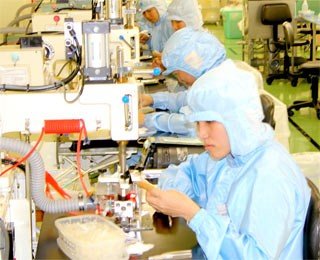 Making medical equipment at Nikkiso Viet Nam Company in the Tan Thuan EPZ
At a meeting held Tuesday in HCMC to review the city's development of its EPZs and IPs over the last 15 years, officials said future projects in these zones must be knowledge-based and hi-tech, in harmony with the city's economic restructuring program.
 
Speaking at the meeting, organized by the HCMC Export Processing and Industrial Zones Authority (HEPZA), Vice Standing Secretary of the HCMC Party Committee Nguyen Van Dua acknowledged the major successes the zones have achieved in attracting investment.
 
He said entrepreneurs there are the city's pioneers, making great contributions to its industrialization and modernization.
 
He stressed, however, the need for economic restructuring in the city and urged HEPZA to align future development in the zones with the city's overall restructuring plan.
 
HEPZA should select big-scale projects in key industries and utilize state-of-the-art technology, he said, adding that they should redirect investment from labor-intensive industries to hi-tech and capital-intensive businesses.
 
He went on to urge HEPZA to petition the central Government to offer the same incentives currently enjoyed by companies in Sai Gon Hi-tech Park to hi-tech industrial organizations and work with the city to free land up for development.
More than half of the city's 6,000 ha reserved for industrial development are currently occupied by 3 EPZs and 12 IPs which, in turn, are home to more than 1,000 companies representing US$3.5 billion in capital investment.
 
Those numbers represent 21 percent of the total number of projects taking place in Viet Nam and 12 percent of the total capital invested in EPZs and IZs nationwide.
Foreign investors have poured US$2.2 billion into 450 projects in the zones, or 13 percent of the city's total foreign direct investment (FDI) capital.
Up to now, the city's EPZs and IZs have earned US$11.5 billion from exports or 13.7 percent of the entire city's turnover. Their trade surplus has reached US$2 billion, bringing in large sums of foreign currency into the city.
 
They have also generated 220,000 jobs, including nearly 162,000 in FDI projects.