The 5thmeeting of the eighth session of the People's Council of Ho Chi Minh City to discuss the socio-economic situation in the city in the first six months of the year was held on July 11.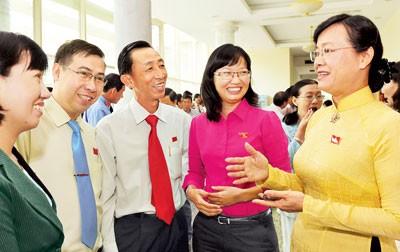 Nguyen Thi Quyet Tam, chairwoman of the Municipal People's Council (R) meets representatives at the meeting (Photo: SGGP)
The city had expected the export turnover to increase by 15 percent in 2012, but it decreased sharply, hence authorities must provide a solution to balance export and import when they fall so sharply, said Tran Trong Dung, a representative of the People's Council.
The socio-economic situation in the city still faces many challenges and businesses cannot approach for loans with preferential lending rates and the real estate sector has not yet shown signs of recovery, he added.
Representative Huynh Quoc Cuong said that the city People's Council should strengthen investigation of the finance and banking sectors, and credit agencies.

The wastewater treatment systems at hospitals, clinics and health centers are still not efficient and about 285 private clinics don't even have wastewater treatment systems, pointed out Mr. Tran Trong Dung.

According to representative Lam Dinh Chien, delayed projects were causing a lot of waste of capital funds and must be checked. The licenses that were granted to these pending projects should be revoked if they cannot meet commitments within the next 12 months.