In response to a campaign to learn and follow Ho Chi Minh's moral example, firemen in Ho Chi Minh City have recently taken measures to prevent fire at slums which are considered "tinder-boxes."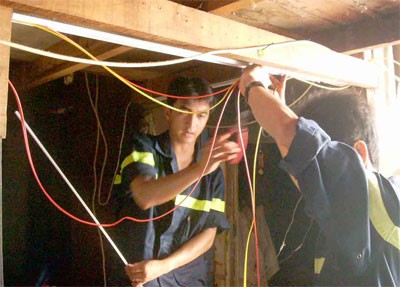 Young members of the Police Department of Fire Prevention of Ho Chi Minh City's District 4 replacing old electrical wiring and devices at a house in the district's "tinder-box" slum to prevent fire (Photo: SGGP)
Huynh Quang Tam, deputy head of the Police Department of Fire Prevention in District 4, said over 90 percent of fires in his area are caused by electrical short circuits.
 
"Residents there are very poor. They can't afford to upgrade or change their electrical devices. If people can't, then we do. We will do what is good for people. President Ho Chi Minh's teachings are like guidelines for our actions," he said.
 
With this motto, the department's Youth Union has improved power grids and replaced old electrical devices in 19 poor households, at a cost of VND25 million, which has been contributed by rich residents, the union and other organizations in the area.
 
The Police Department of Fire Prevention in Binh Thanh District has also enthusiastically responded to the campaign, as it has repaired houses in 66 out of 69 areas with serious concerns over fire-hazards.
 
Dang Tien Dung, the department's deputy head, said his department and organizations in Binh Thanh District have replaced easily flammable materials, built walls between every five to ten houses to prevent fire spreading, provided more fire extinguishers and built further facilities to store water.
 
The district's Youth Union has also fixed broken fuses and electrical wiring for its residents.