Businesses located at Sai Gon Hi-Tech Park October 8 said they have recruitment difficulties, electricity cuts, incomplete infrastructure and problematic customs procedures.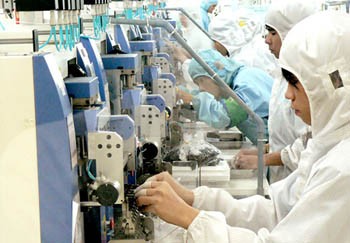 Workers at Nidec Company in Sai Gon Hi-Tech part (Photo: SGGP)
The comments were made at a meeting of the Ho Chi Minh City People's Council's Economic and Budget Board, held in the park.
Tran Tien Phat, managing director of Datalogic Scanning Vietnam, said that the company usually takes six months to one year to train a student who has just graduated from university.
Meanwhile universities ask students to practice from a few weeks to three months, which is not enough time for adequate work experience or learn necessary skills.
Mr Phat proposed that universities should copy Singapore, meaning universities would pay businesses for students' internships and companies, on their part, would pay students.
The practice time for students would be given by businesses not universities.
It would make internships more effective because companies have time to train and find good quality employees, he said.
A representative of Sankyo Vietnam (Nidec), Henry Pham, said that the regular blackouts had affected production at his company.
He suggested the park to soon complete an underground electricity system to production.
C. H. Wong, general director of Jabil Vietnam, said that his company, currently located on Le Van Viet Street and is under management of District 9 authorities, uses electricity from common lines with surrounding local residents for production.
Thus, he desired to know when the park would solve the situation so that his company could settle down to effective operations.
Moreover, he said that customs procedures have also caused problems.
Customs officials asked the company to present contracts whenever it exports or imports anything. Thus, his company has to write contacts much earlier than usual with its partners. This could be done at a later stage, as is usual or they could use one contract for all production rather than writing up a single contract each time they import or export.
On the other hand, financial and accounting procedures have to be in Vietnamese, which causes problems for foreign businesses.
Le Thai Hy, head of the management board of the Hi-Tech Park promised that the underground electricity system would be completed by the end of the year.
As to blackouts, he said it is under management of the city's power company, so, the park has no control over the situation.
He also said that within the month, Jabil Company would have electricity from the park to stabilize production.
The park management board has asked city authorities for management of Le Van Viet Street, from Hanoi Highway to Jabil Company, however, it has not been approved, he said.
The Hi-Tech Park currently has 13 businesses. The number of companies in the park is expected to increase to 19 by the end of the year.