Currently, Ho Chi Minh City has installed many measures to lure excellent student and young government workers in training programs, aiming to build human resources for the city's development. However, effects of the programs aren't as well as expected.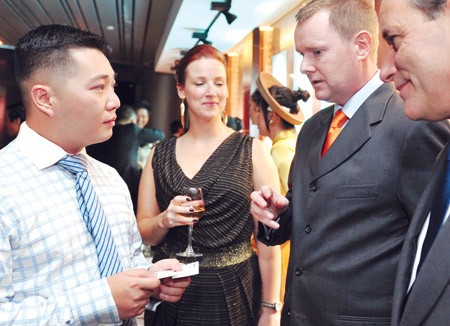 Young Party Secretary of District 1 Le Truong Hieu Hai talks with foreign investors at an international investment forum. (Photo: Viet Dung)
Ms. Nguyen Thi Lan told SGGP after its series of articles on developing young human resources that this was a breakthrough in growing city's human resources with enhancing training programs, including sending young administrative managers and excellent student to abroad for training; sending young government workers to locals…
Up to now there have been 1,200 young people taking part in human resources building programs, she said.
However, only 50 percent of trained cadres excellently complete their tasks, she added.
Regarding to measures to evaluate level of conducting task of young cadres, Ms. Lan pointed out the low rate of young cadre in party committees in locals.
The city targets 15 percent of young managers in local governments, but the rate is just about 9.5 percent, she said.
Explaining reason for the low rate of young managers in local governments, Ms. Lan said that the low salary in local government offices and inadequate assignment discourage young managers in local government offices and brain drain.
Private and international companies pay young talent managers US$1,000-1,500 per month as the Government pays one third of this sum, she said.
Ms Lan said that one of important measures to archive success in building human resources for the city, the city should open training programs to young managers in private companies.
In the fierce competition on high quality human resources, human resources building programs should not separate human resources in government owned bodies and private companies, she said.
The city will also hold public and clear recruitment contests to high positions in local governments, bravely appoint excellent young cadre to high positions, Ms. Lan added.
Relating to salary for excellent young managers, Ms. Lan said that the city would facilitate young managers studying abroad to read lectures in universities, take part in research projects.
The city also pays more allowance to local governments' young managers who graduated from universities and master programs and will suppose the central Government to amend payment policy for government workers.