Ho Chi Minh City authorities on January 1 met with 80 school children, who represented more than one million pupils in the city, aiming to listen to their desire and dreams for beloved city.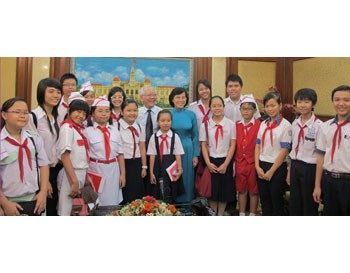 Chairman of Ho Chi Minh City People's Committee Le Hoang Quan (black cravat) and the Chairwoman of city People's Council Pham Phuong Thao (C) pose a photo with students taking part in the meeting on January 1, 2011. (Photo:SGGP
At the meeting, children asked many questions on education, entertainment and live environment
They also concerned about issues related to traffic jam, flooding, environment pollution.
Truc Quynh, a student from Nguyen An Khuong Primary School, Hoc Mon District, said that the current curriculum is very hard and overload for students.
The school's curriculum is too theoretical and insufficiently "practical, she added.
Nguyen Bich Phuong from Luong Van Can secondary School, District 8, said teachers did not listen to students' opinions and understand them.
She agreed with other students on hard theory in curriculum with a story that her school's laboratory closed during last year and was dusted.
Regarding on recent school violence, students asked city authorities to positively deal with school violence so that students can peacefully go to school.
Some of them didn't appreciate sacking students involving to school violence.
Hynh Dinh Can from Dong Den Secondary School said that if obstinate students were sacked their future were uncertain and he asked adults to be responsible for stubborn children
Bao Tran from Phan Chu Trinh School, Tan Phu District expressed her desire that there are not anymore cases of school violence. She also hoped that teachers need to do good things and become examples for students to look up to.
Some students also petitioned to city authorities to impose strict fines for those who dump, pollute environment, and break the traffic law .
Hai Phuong from Quang Trung Secondary School, Go Vap District said that city needs to create healthy internet websites, TV programs for children and appose ban on violent online game.
According to Chairwoman of the city People's Council Pham Phuong Thao, students were very spontaneous and city authorities should consider their desire and need to give suitable solutions for children in coming time.
City needs more actions for children
City education official Tran Khac Huy said that schools should be responsible first for school violence because schools did not pay attention to stubborn students.
Regarding on curriculum, he said that the city's education department should have resolution to reform education syllabus.
He also said every school had set up a mental health service where teachers have a deep understanding about the situations of each student, their mental health, their family conditions and whatever else may have an impact on the development of a child.
Concluding the meeting, the chairwoman of the city People's Council promised the city would have projects and effective solutions to take better care of them and create best condition for children to study and develop their creation.
The city's message in 2011 is "Let make good things for children", said Ms. Thao.