The 14th session of the 8th People's Council in Ho Chi Minh City officially opened this morning and presided by the council chairwoman Nguyen Thi Quyet Tam.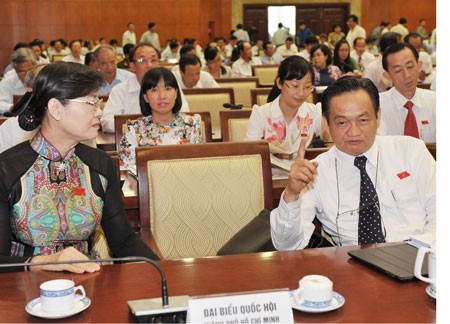 Tran Du Lich, deputy head of HCMC's National Assembly Delegation and chairwoman of the city People's Council Nguyen Thi Quyet Tam (L) at the meeting (Photo: SGGP)
Reporting socioeconomic condition in the first six months this year, Nguyen Thi Hong, deputy chairwoman of the city People's Committee, said that Gross Domestic Product grew 8.2 percent over the same period last year.
 
The rate is higher that in the same period in the last two years proving that the economy has been more stable, according to the city's leaders.
 
Export turnover reduced 1.2 percent in June against May but reached US$14.18 billion in the first six months, up 5.72 percent year on year. Import turnover was US$12.44 billion, down 2.2 percent year on year.
 
The East Sea disputes since May have directly affected HCMC's exports and imports, especially to some commodities which see large trading proportions with China like rice, vegetables, materials for garment and textile and footwear industries, pesticides and others, according to Ms. Hong.
 
Difficulties in exports and imports with Chinese market brings about not only challenges but also opportunities for businesses to change market structure and improve ability to take advantage of tax incentives from the Trans-Pacific Partnership, she said.
 
The city leaders admitted the economy faces with a lot of difficulties from the world unstable commodity market and non-tariff barriers to trade, which have impacted local enterprises.
 
Besides, the credit growth rate is lower the city's plan and the ratio of bad debts is still high.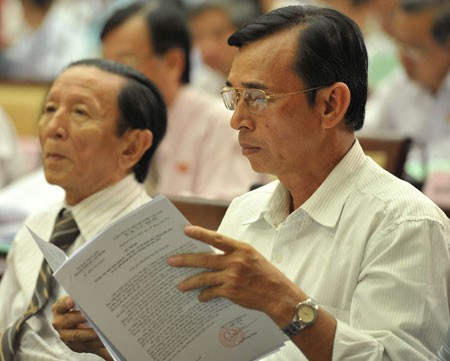 City delegates at the meeting (Photo: SGGP)
The world and regional economy and politics, especially in the East Sea, are forecast to see a lot of complicated and unanticipated changes, which will affect HCMC socioeconomic development in the second half this year. Chinese market will be narrowed.
 
Therefore, the city's direction is to boost four key industrial sectors. Of these, city authorities will focus on building a support industry development project to minimize imports from China.
 
They will help businesses to change their structure towards increasing the ratio of hi-tech industries which are a position of strength and map out policies to attract large economic groups in the world to invest in this field.
 
Stating at the meeting, Ms. Tam proposed delegates to contribute more opinions about weaknesses and limitations so that the city can repair and complete norms set for 2014.