The Ho Chi Minh City's price stabilization program has created beneficial ripple effects in society as it has helped to maintain steady prices of many staple goods as well as ensure food hygiene, quality and adequate supplies.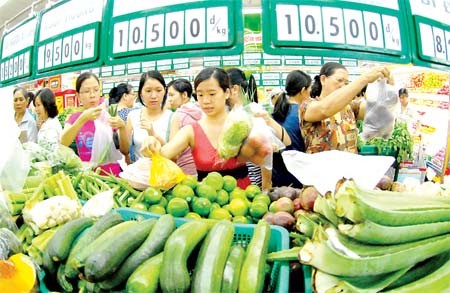 Shoppers check out vegetables at a supermarket in Ho Chi Minh City (Photo: SGGP)
Nguyen Thi Hong, vice chairperson of the HCMC People's Committee, stated this at a seminar on April 6, while reviewing the nine years of implementation of the program (2002-2011) and planning for the period 2011-2015.
 
She said the program has really become an important tool in the city to regulate prices effectively and practically. The program has proved its value in managing prices of essential goods at reasonable rates.
 
She added that thanks to the program, the city has been able to restrict and control speculation and unexpected price hikes, prevent counterfeit and poor-quality goods and to stabilize the market, especially during the entire New Year (Tet) season.
 
These dramatic results have not just had their impact within the city but other localities are now adopting them, she added.
 
She believed that the program has contributed to improving economic relations between the city and other localities.
 
The program has also facilitated implementation of the Politburo's policy on prioritizing Vietnamese-made goods, as only locally made goods have been price-stabilized.  

In addition, the program has also helped participating companies to focus on investing in developing state-of-the-art technology to reduce production costs and enhance quality of their products.

She said the city's enterprises have taken initiatives fearlessly and invested in supporting farmers in other localities to improve their produce for them.

She was also of the belief that the program has helped to cement a professional cooperation amongst the city's market management agency and other functioning agencies.

Vice chairperson Hong said it was thanks to the program that the city's consumer price index (CPI) has remained lower than the national CPI. The city's CPI was 9.58 percent in 2010 while the national CPI was 11.75 percent. In March 2011, the city's CPI was 4.89 percent while the national CPI was 6.12 percent.

Improving the program
 
The program will continue to assist and encourage enterprises to expand their production and distribution systems, improve production technology and product quality, reduce business and production costs and lower cost prices, Ms. Hong said, adding that the assistance and encouragement was aimed at having more essential consumer products of high quality and good hygiene standards at reasonable prices.
 
To meet the country's target of curbing inflation and ensuring social welfare in future, the program will concentrate on three consumer groups, food, drugs and education tools.
 
The city will continue to develop distribution systems, especially in traditional markets, industrial parks, residential areas and strengthen management of goods supplies, quality and prices, Ms. Hong said.
 
At the seminar, participating enterprises pledged to continue to identify themselves with this significant program.
 
Nguyen Thi Hanh, general director of the city-based retailer Saigon Co.op, said her company would increase the total number of supermarkets to 100 from the current number of 50 and the total number of retail points to 200 by the end of 2015, to provide essential goods to workers in industrial parks and low-income earners in remote areas.
 
Van Duc Muoi, general director of the food maker Vissan, promised to maintain development work and distribution networks, constantly ensuring food hygiene.  
 
Ho Thi Kim Thoa, deputy minister of Industry and Trade, said the city should focus more on measures to stockpile goods and allow more enterprises to join the program to avoid labeled as "privileged".
 
Nguyen Xuan Phuc, minister and chairman of the Government Office, said the city's price stabilization program is appropriate to the current situation and requirement.
 
However, he said, for the program to prove its efficiency, the city should continue to perfect its price stabilization mechanism to ensure that goods can also reach low-income laborers.
In addition, the city needs to raise its price stabilization fund, keep a close watch on the market and monitor prices more tightly to ensure that price-stabilized goods will always be 10 percent lower than market prices, Mr. Phuc added.