Despite numerous meetings on building health services to alleviate the pressure on existing hospitals in HCM City, little has been achieved and the problem has only worsened with a prohibition on upgrading hospitals since 2007.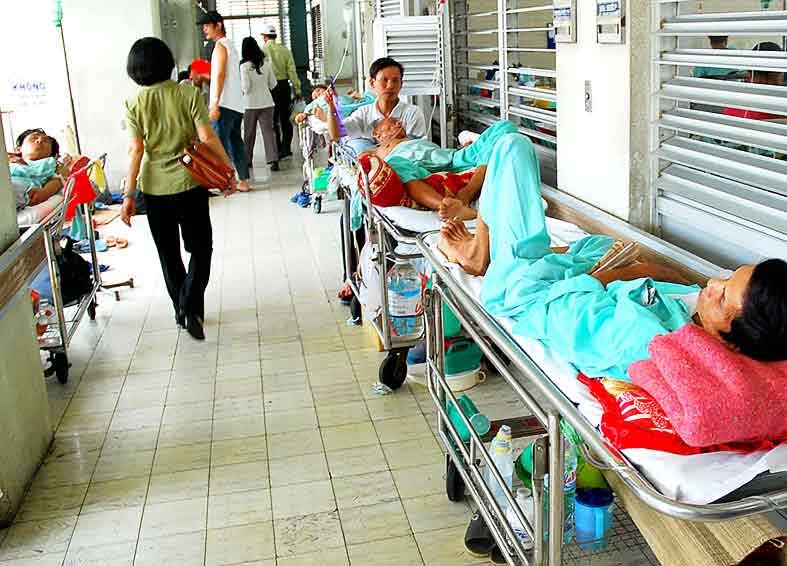 Patients sleep outside the room due to the large number of patents in the city's central hospitals (Photo: SGGP)
Ho Chi Minh City-based Tumor Hospital's statistics show that an average 2,500 inpatients and around 10,000 outpatients are examined every day. This excludes people who are given ultrasound scans.
Only building a second hospital could help ease the hospitals' current overload and help doctors keep a close eye on patients during their treatment, said Dr. Le Hoang Minh, the hospital's director.
Increasing examining hours, working on Saturdays and Sundays or improving treatment procedures are only temporary measures, he added.
The hospital submitted a proposal to build a second hospital in a suburban district yet no relevant agencies have given the green light.
While the hospital waits for a decision to set up a second hospital in District 9, the Orthopedic Surgery Hospital's plan to build an affiliate hospital in Binh Chanh District cannot go ahead because the five hectare land approved by the city People's Committee is earmarked for the city's general construction.
The Orthopedic Surgery Hospital has managed to tick along but cannot keep up with increasing demand, the opening of the second clinic will ease the situation, said Dr. Tran Thanh My, the hospital's director.
At the time, the city People's Committee in 2007 strangled the Ear, Nose and Throat Hospital's need to expand.
Relevant agencies have not given land to the hospital for construction. The hospital is critically short of beds, while it receives 1,500 people including nearly 300 inpatients. In some cases, it has seen two patients to one bed in hospital corridors.
The hospital's director, Dr. Tran Thi Ngoc Dung, told SGGP that the city's People's Committee allowed the hospital to expand, however, land compensation for clearance and resettlement has not been ratified.
Other hospitals, like Binh Dan, Children I, Blood Transfusion and Hematology Center and Tropical Diseases, also experience the same problems.
Their attempts to expand or build new hospital have been met with bureaucratic red tape. In order to help both hospital and patients, relevant agencies need to step up and approve land clearances.


Ho Chi Minh City People's Committee decided not to upgrade hospitals in the city in 2007, as it would develop a project for new medical clinics in suburban districts in order to reduce pressure on central hospitals.

Under the project, the city would spend on more beds, equipment and personnel for five general hospitals in districts 7, Cu Chi, Thu Duc, Hoc Mon and Binh Chanh, each with 500 – 1,000 beds. However, the project remains on paper.